How to Cancel Your Account
Billing
Updated on June 14, 2023
Benchmark Email is a subscription-based prepaid service, and you can cancel your account at any time during your billing cycle.
Topics covered in this article: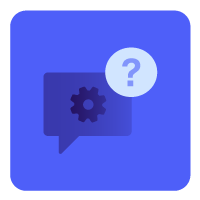 THINGS TO KNOW BEFORE CANCELLING YOUR ACCOUNT
Benchmark Email does not prorate downgrades or issue refunds for a cancelled account or unused services.

Plan downgrades take effect on their next renewal date.
To prevent your account from renewing, cancel before the renewal date. Read more about our Cancellation and Refund policies in our Terms of Use.

You may reactivate your cancelled account at any time. However, after 30 days, the data will no longer be available in your account.
Paid accounts can not downgrade to a free plan.
Sub-accounts can only be deactivated by their master account. To deactivate a sub-account, go to your User Management page, locate the sub-account, click on the More Options icon, and select Deactivate. The sub-account user will no longer be able to log in to their account.
Benchmark accounts renew in the Greenwich Time Zone, which could be different from your time zone. To avoid your account renewing, make sure you cancel your account at least 24 hours before the renewal date. Click here to see your time compared to Greenwich.

PLEASE CONTACT OUR SUPPORT TEAM IF:
If you cannot reactivate your cancelled account.
To downgrade your account.
If you recently canceled your account and would like to reverse the cancellation.
To complete the cancellation process if your account is expired due to an expired credit card or account overages.
---
How to cancel
To cancel your account, follow the steps below:
Click on your account name and select Account Settings.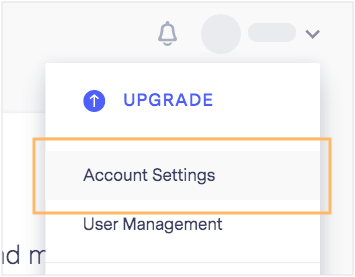 Click on Plan Information.
Click on the Cancel Account option in the Account Status area.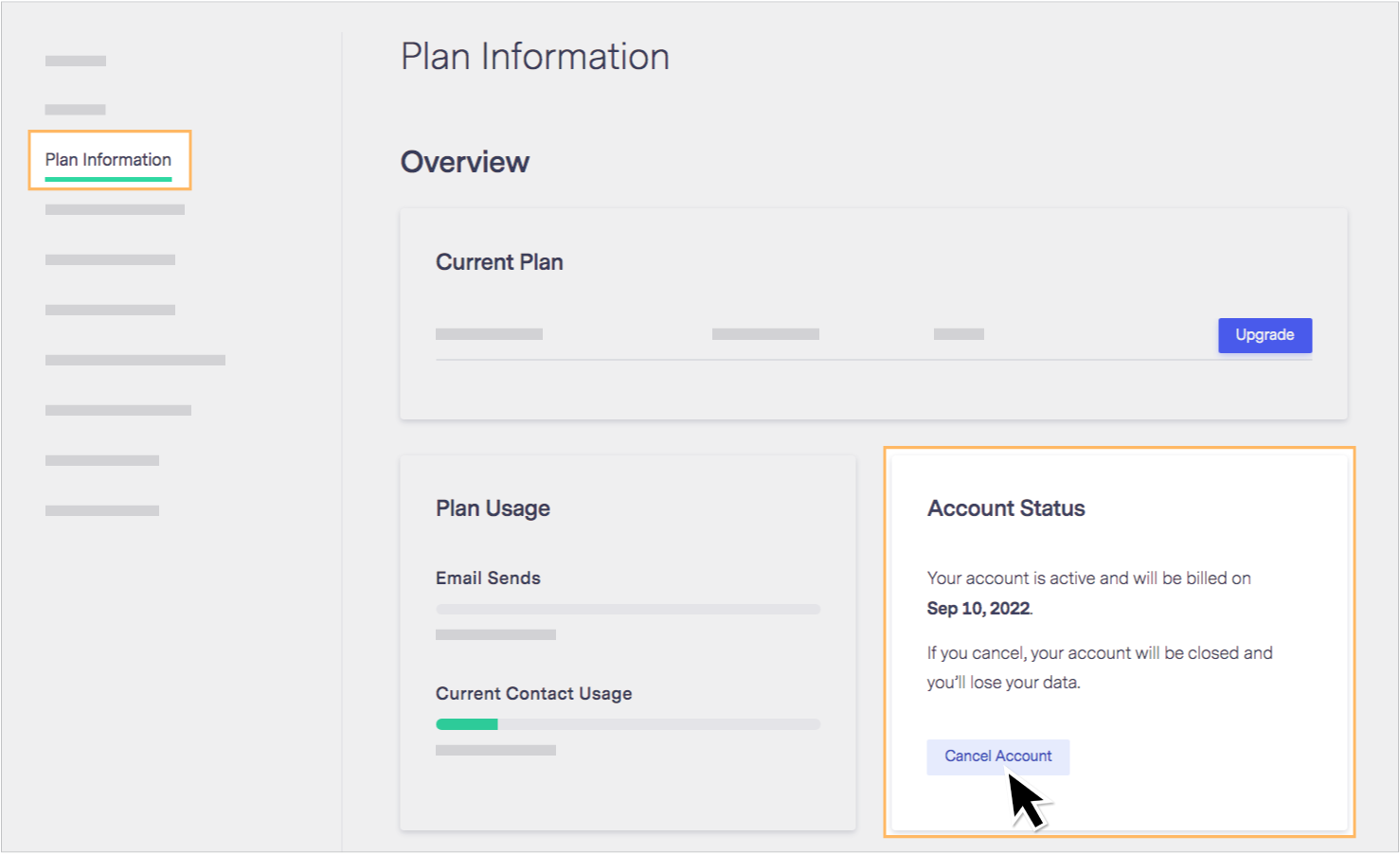 Confirm you would like to cancel your account by clicking Continue Cancellation.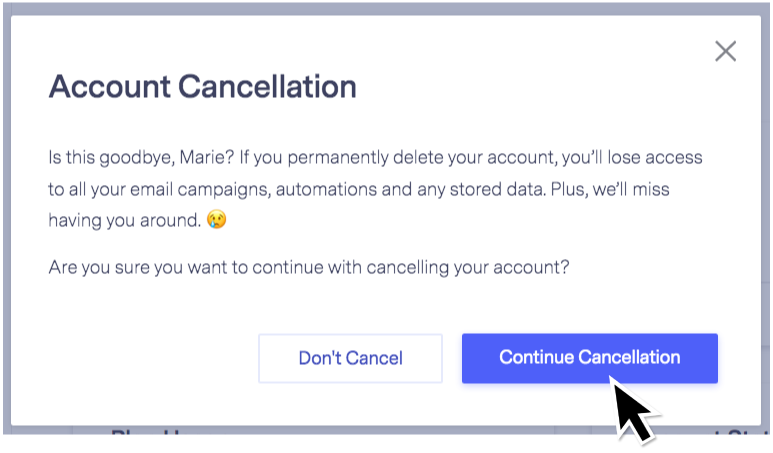 SUGGESTION
To learn more about what features you'll lose access to once the account is cancelled, click here.
Complete the cancellation survey, and when done, click on the Finish Cancellation option.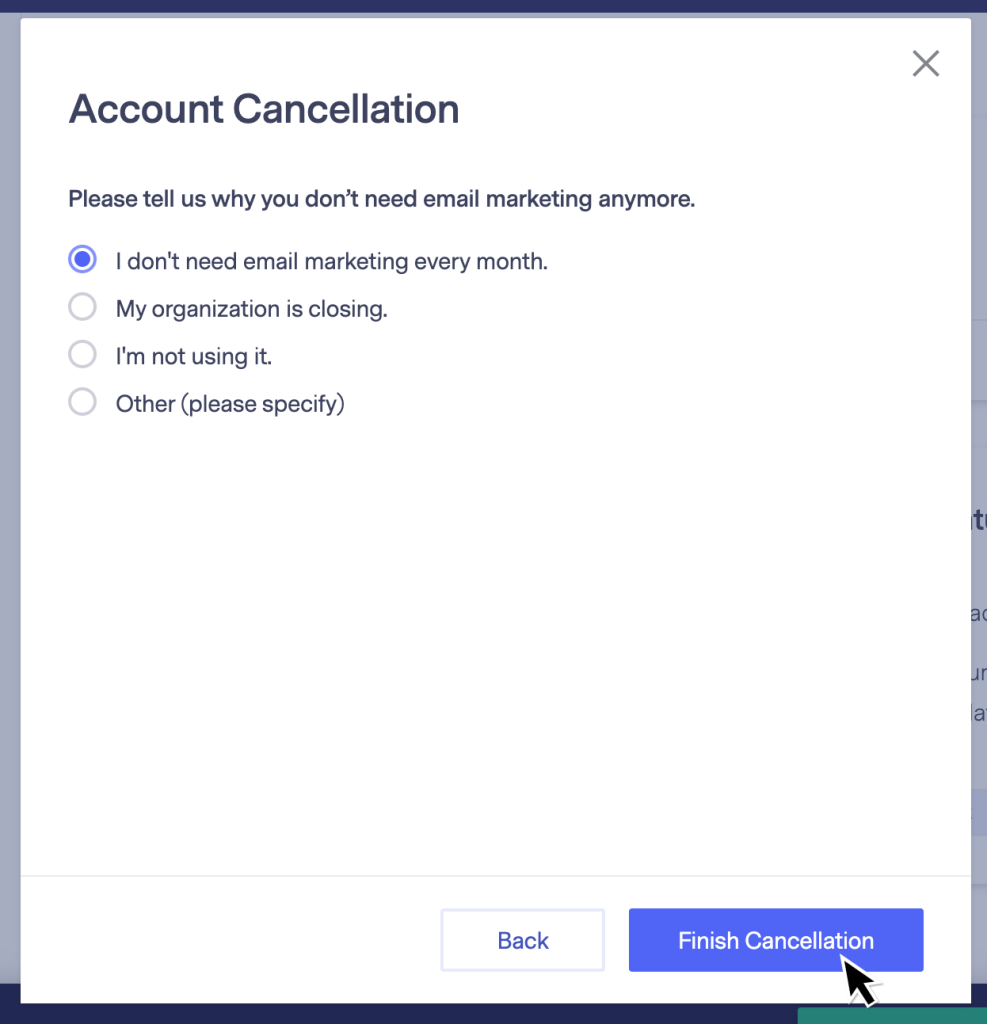 You'll now see a cancellation confirmation message with your account's cancellation date.
The Account Status will reflect your cancellation date, and you will also receive a cancellation confirmation email. Save this email for your records. Check your junk folder if you do not receive the email in your inbox.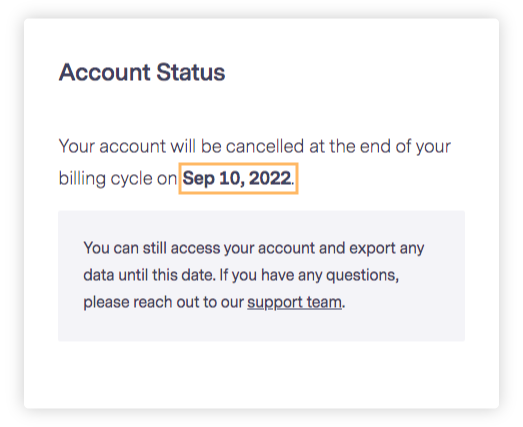 ---
What happens to data within the account after canceling?
After canceling your account, you will have access to the account and all of your features until the cancellation date; this date would be the date your account would've renewed.
For example, if your account is scheduled to renew on January 20th, 2023, and you cancel on January 10th, 2023, you will have 10 days left to use the features within your account.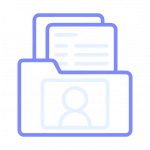 Benchmark Email stores your data for up to 30 days after the cancellation date. After 30 days, the information in the account is permanently deleted and cannot be recovered.
To prevent losing your data, we advise you to export your contacts lists and download any email reports within your account.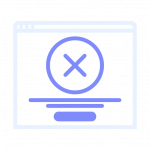 Once the account reaches the cancellation date, the following features will stop working.
Signup Forms links will no longer be accessible. Contacts added through a signup form after the cancellation date will not be saved.
All automations in Automation Lite and Automation Pro will stop working.
Active landing pages will become inactive and will no longer be accessible.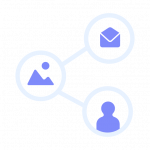 Add-Ons
Once your account reaches its cancellation date, it will also cancel the add-ons. This includes Dedicated IPs and Image Hosting.
Images in the Image Gallery will be deleted, and images in previously sent emails will no longer display.
Saved documents in your Document Gallery will be deleted, and document URLs in previously sent emails will no longer be accessible.
Unused Inbox Checker credits will be removed.
Unused Smart Content credits will be removed.

CONSIDER
If you have circumstances you would like us to consider, please reach out to discuss that by emailing support@benchmarkemail.com
---
Cancelling PayPal Automatic Payments
If you use PayPal as your billing option, log in to your PayPal account and cancel automatic payments to Benchmark.
Cancelling your Benchmark account does not cancel your PayPal automatic payments.

CONSIDER
To learn how to cancel your PayPal Automatic Payments, click here. 
---
If you have any questions, please contact our support team.