Knowledge Base Home

Automation Pro

How To Block Subscribers From Entering an Automation
How To Block Subscribers From Entering an Automation
You can stop new subscribers from entering automations with the Block trigger option. The Block trigger can be enabled within Active automations.
When you use the Block trigger, any new subscribers will be blocked from entering the automation, and existing subscribers will not be affected.
This Blocking Trigger is only available for the following nodes:

Contact Joins List
Contact Joins Segment
Contact Visits Webpage
When using the following Targets:
All Subscribers
New Subscribers Only
The block trigger option is not available in the setting for Existing Subscribers.
To activate the Block Trigger follow the steps below.
Go to the active automation where you want to block the entrance.
Then click on the trigger node.
In the trigger popup, enable the Block Trigger option by clicking on the toggle; it should go from gray to blue to indicate active.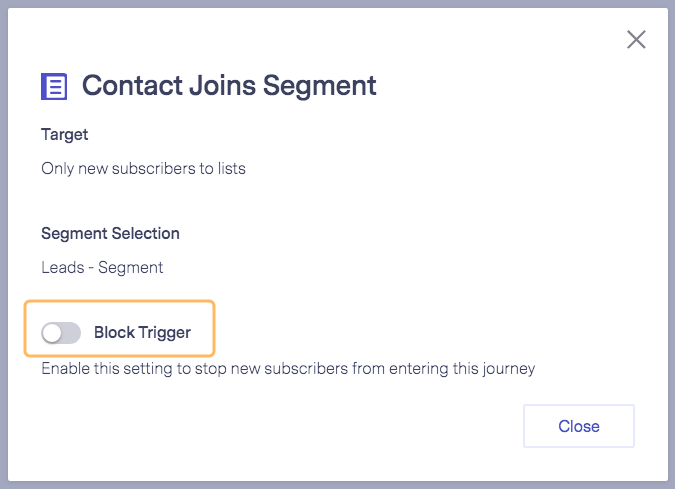 When done, you'll see a confirmation that your block trigger was enabled. Last, click Close to finish the process.
You will see a new icon on your trigger node, indicating that the block feature was enabled.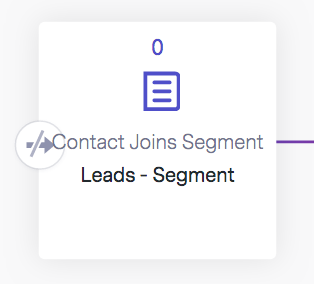 To turn off the block feature, click on the trigger node and click on the toggle option; it should go from blue to gray.
---
If you have any questions, please contact our support team.