Benchmark Agency Account
The Benchmark Agency account enables our agency clients to have multiple accounts linked to their client accounts. Agency accounts are meant for businesses that do Email Marketing for their clients, especially those creating and sending email campaigns.
Agency accounts might seem similar to Sub Accounts. However, they are different, sub-accounts live within the Master Account and are not billed directly, and Agency accounts live on their own and can be billed. The advantage of using the Agency account is letting your client manage their billing in a separate account and linking it to yours.
Did you know you can get a 30% commission using our Partner services? Register your client's account using your partner URL and earn 30% commission when they sign up for a paid plan. Click here to learn how you can start earning commissions.
How it works
Access your client's Benchmark account directly from your account using the User Management page. You can log in to upload lists, create and send emails, and more! Our agency feature is available to both free and paid users. However, pricing depends on region, please consult with your Benchmark representative if you have any questions.
How to Get Started
To enable the Agency account feature contact our Support Team via email or chat and request to have the Agency feature enabled. Make sure you have registered your client account with your partner URL.
Once the Agency feature is enabled, log into your Benchmark account.
Click on your account name, and then select Account Settings.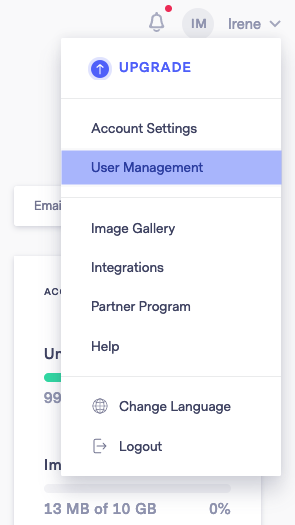 Then select User Management.
Click on the dropdown and select Client Accounts.
Now it's time to add your first Client Account.
Click on the Add Client Account option.

Fill in your client's account information.

Client Account Login
Client Account Password
Create Account Alias

Click Save.
You'll now see a message confirming the account was linked.

IMPORTANT
Agency accounts do not share image storage space with their linked accounts.

You can't share lists, emails, or images with your linked accounts. Only Sub-accounts have this functionality.

Not sure if Agency accounts are the right choice for you?

Click here

to learn more.
---
If you'd like to link your account to an Agency, please contact our support team.