How do I connect my Benchmark account with PieSync?
Integrations
Updated on October 6, 2020
PieSync is a time-saving software that provides a two­-way synchronization between apps. Now you can connect Benchmark with your CRM, in just a few simple steps. Using a software like PieSync can help you have all your contacts in one place and at the same time in another if one updates the other app will too.
What will you need from your Benchmark account?
All you need from your Benchmark Account is your API Key. To access your API Token Key simply go into your account settings and scroll down. (See below)

1st Step Create a Connection
Now in your PieSync account, you will need to Create a New Connection. You will need to start off by searching for Benchmark.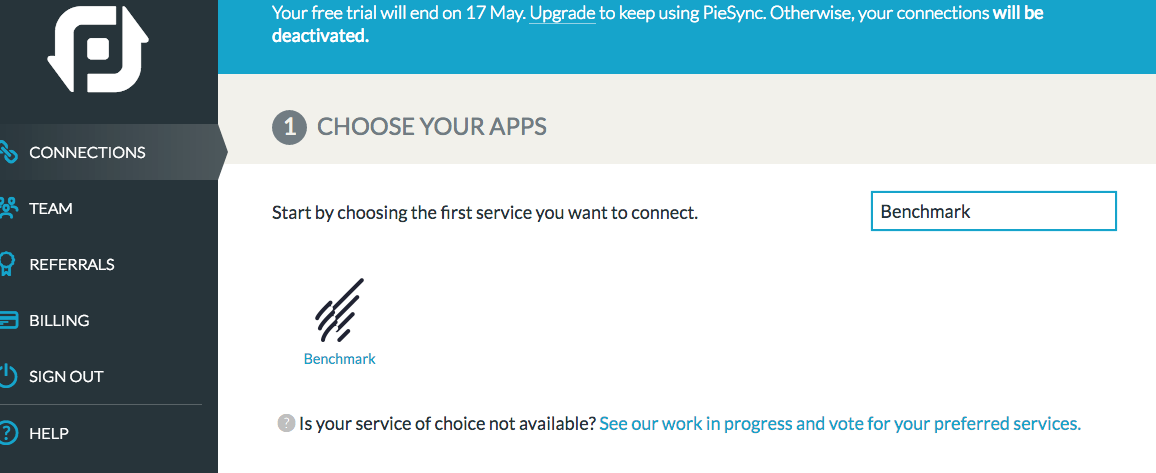 Benchmark has now been selected, now select the service you would like to Sync with Benchmark.
2nd Step Authorize
The next step will be to Authorize both of the accounts. This step is in place to make sure you are giving PieSync permission to sync.

Follow the steps given for the app selected, for Benchmark enter your API Key. Choose the list you want to Sync, and click Next
3rd Step is to Configure
Now you will set the rules, for your Sync and Map Fields for your contact list.

Now click Start Syncing Now!
Before you move on!
If you already have another integration in place you will want to disable it, otherwise, you will create duplicates. It's also important you select the option to remove duplicates, this will prevent any duplicates being added.
The initial syncing will take between 10-30 minutes even longer depending on your list size. This is normal for the initial syncing, moving forward any updates to either list will show up as soon as 3-5 minutes.
If you feel you did something wrong check your connection and reconnect if needed. If this still does not solve the issue contact our Benchmark Support team.
To explore more options on how you can use PieSync Click Here
If you have additional questions, please feel free to contact our support team via Email, LiveChat or Phone.
---
Did this answer your questions?