How do I create a survey?
The only way you can be sure that your clients are happy with your services or products is by asking them. That's why Benchmark provides you the survey tool. Benchmark's surveys are very easy to use and you can implement them immediately.
Click on the survey topic you want to know about:
---
Creating a survey
Log in to your Benchmark account.

From the left navigation, click on

Contacts

.

Under the Contacts menu, click on

Survey

.

Click on the Create New Survey option.
On the Create New Survey page, you can either choose a Blank Survey or select from the available templates.

Selecting Create New Survey gives you 6 options:
Blank Survey, Services Provided, Event Participations, Company Satisfaction, Website Survey, and In-Store Purchase.
The following instructions are based on the Blank Survey. The Blank Survey creates a new survey from scratch.

Select Blank Survey and click Next at the bottom of the page.
---
Step 1 
Questions

A lightbox will pop up asking you to input a Question, Type of Answer and whether a question is required).
Type the question you wish your respondents to answer.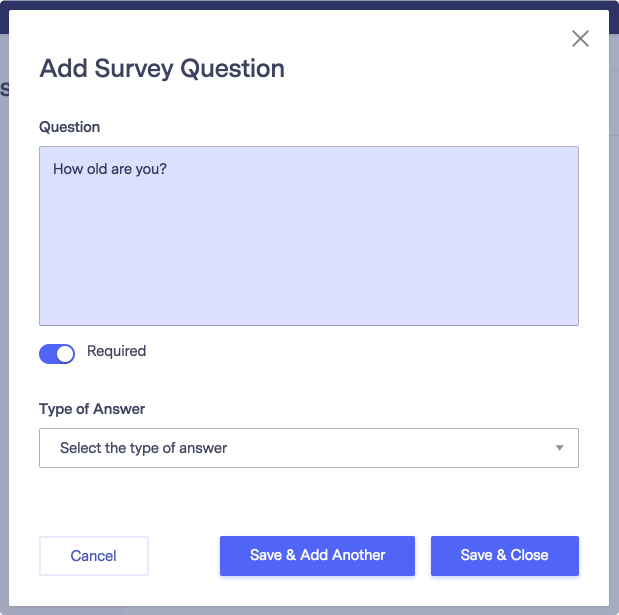 There are multiple styles of question. Choose based on your aesthetic preference:
One-Line (you write a question and they will answer with a line they write themselves)
Radio (the user can choose one answer from a selection of bubbles – you can add or subtract   answers up to a max of 10)
Check (like Radio except this allows for multiple answer boxes to be checked)
Dropdown (a dropdown menu provides the answers to the question)
Descriptive Text (provides a larger area for the respondent to write out their own answer)
Multiple Choice (like dropdown but with multiple answers shown at once)
Click Save & Add Another to add more questions. Selecting Save & Close will take you to the next screen.
Here is an example of the multiple styles of answers: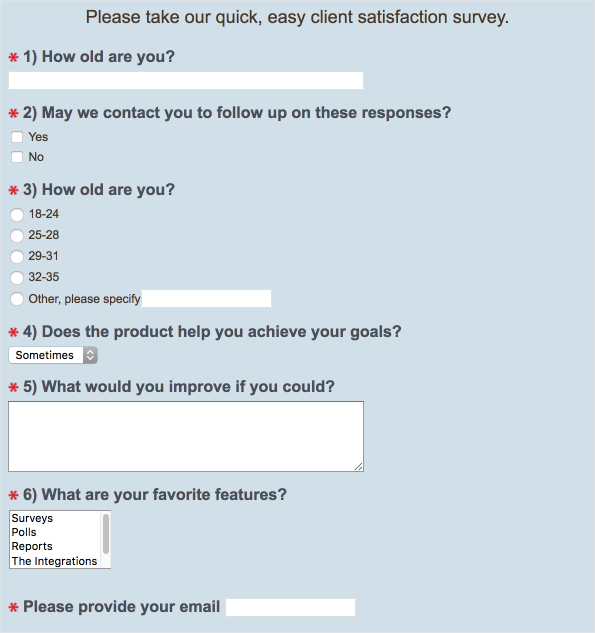 Consider: An email address field is required in all surveys. If you'd like to have an anonymous survey, you can contact our support team to enable this. However,  when enabling anonymous surveys it removes the required email field in all future surveys. Therefore, if the email field is removed, there is no other way to see who completed the survey.
You will be prompted to the Survey Questions page where you can review the question type, the number of answers, edit the question, or delete it. Click Save & Next when you are ready to move to the next screen
---
Step 2
Details
Now you are on Step 2, the Details screen:
The Survey Name is a required field and is for your personal identification in the dashboard. It is not displayed to your recipients.
The Survey Title is a required field and does appear to your recipients and on your website should you post it online.
The Intro Message (optional) appears beneath the title of the survey.
Post-Survey URL wii send guests to this site once they complete the survey.
Use Logo (optional) allows you to upload your company logo by clicking Upload to search in your files or Select from Image Gallery to search for a Logo saved on your Benchmark Image Gallery (recommended size: 150 x 70 pixels).
Click Save & Next when done.
---
Step 3 Design
Now you are on Step 3, the Design page.
Choose the Logo option to align the logo. Header to edit the survey and choose Body for formatting options.
The default button text is "Submit Survey" but you can alter it to anything you want in the Body formatting options on the Answers tab (e.g. "Click   Here!" "Finish Survey," etc.)
Click Save & Finish to finish creating your survey.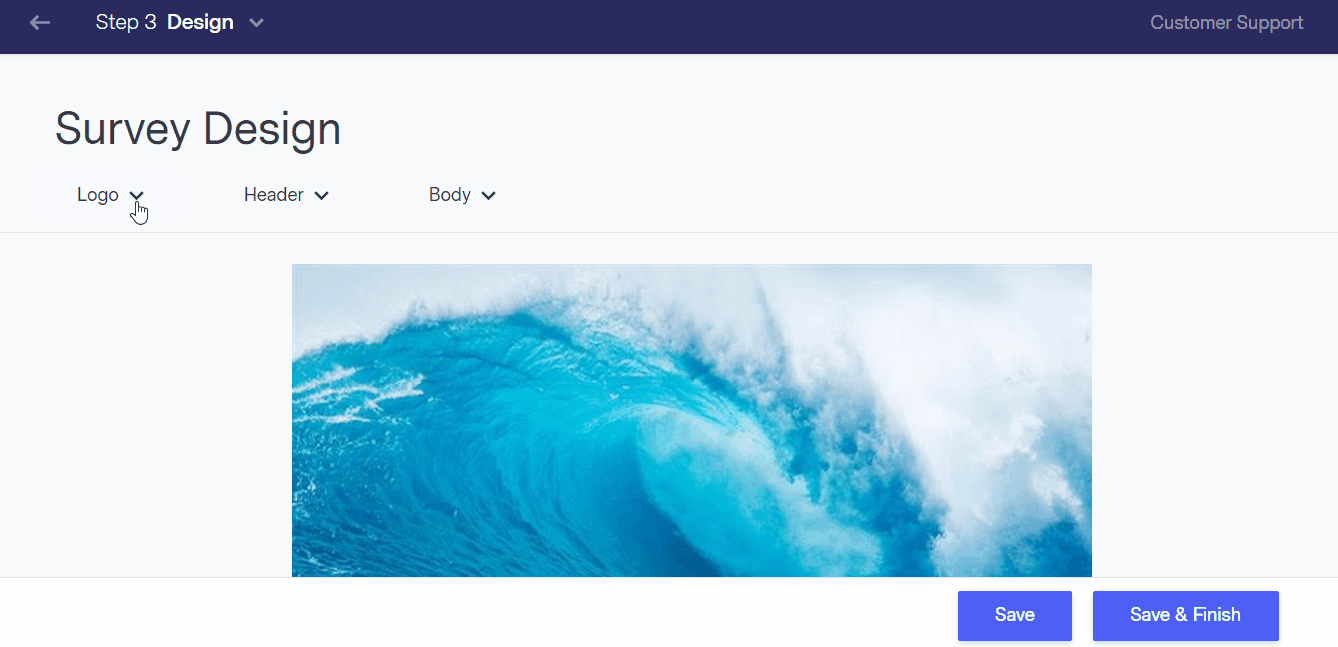 You have now created your survey!  Your survey is inactive, you can activate your survey by clicking on the Activate Survey button.
If you want to know more about surveys click on the links below.
If you have additional questions, please feel free to contact our support team via Email, LiveChat or Phone.
---
Did this answer your questions?