Best Practices for No Reply Email Addresses
When sending an email, you should always avoid using no-reply email addresses. Using a no-reply email address may prevent unintended replies, such as "Out of Office" messages, but it can also have negative consequences. By using no-reply email addresses, you can miss out on customer feedback, or revenue chances may be overlooked.
Topics covered in this article: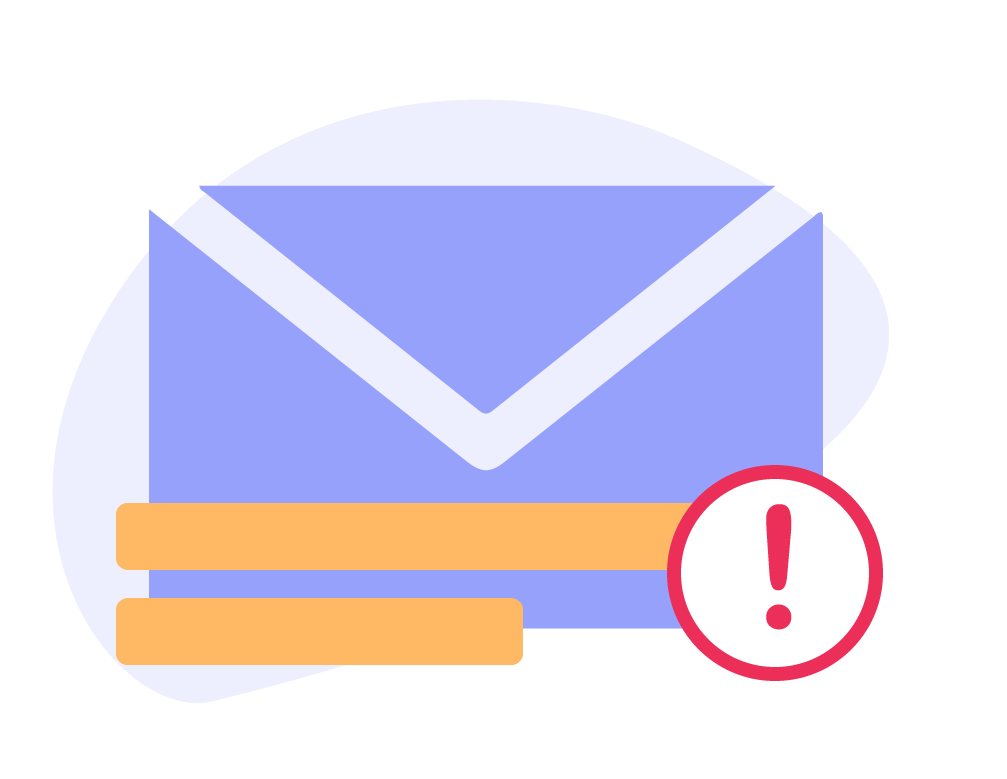 DID YOU KNOW
You can easily change the reply email address on the email's Details page. To change your reply email address, go to your email campaign, and open the Details page. Open the From section, and enable Use a different email address for replies. Click here to learn more.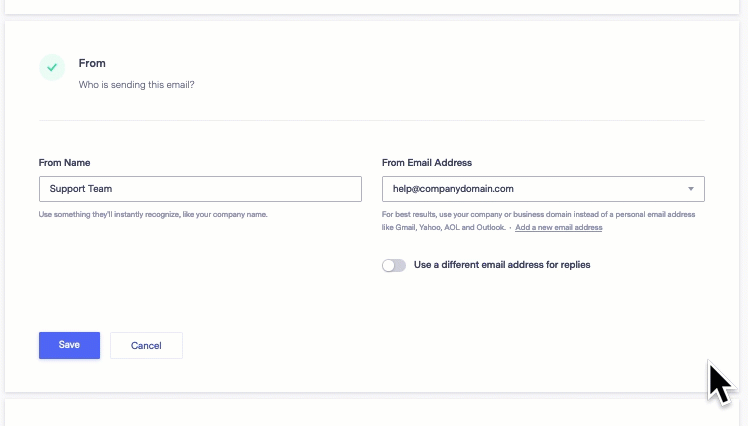 ---
What is a no-reply email address?
A no-reply email address is an email address that is used to discourage recipients from replying to an email. This no-reply email uses a variation similar to "no-reply@companydomain.com." It is commonly used to send email notifications, purchase or event confirmations, among other transactional messages. Not always, but in some cases, the inbox for this email address is not monitored, or it can't receive messages.
Recipients who attempt to reply to a no-reply email will receive a 550 bounce message from their email provider, as the email is not designed to receive messages.
The error message varies from inbox to inbox but will say something like this:
Address not found. Your message wasn't delivered to no-reply@customerservice.com because the address couldn't be found, or is unable to receive mail.
The response from the remote server was: 550 No Such User Here.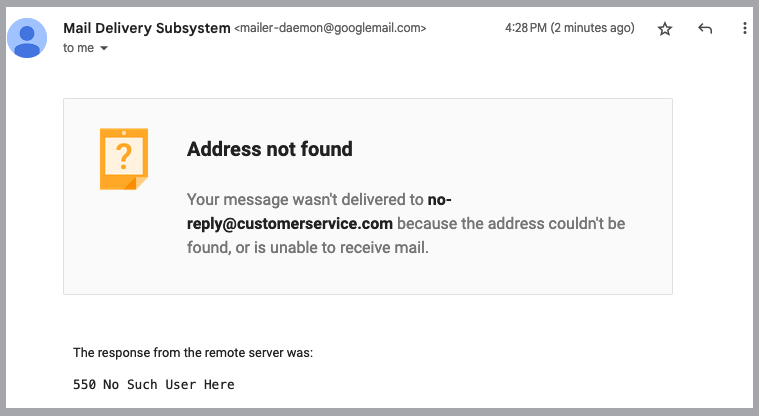 CONSIDER
No-reply emails were designed to decrease email responses. Although effective in decreasing the number of replies following a large email campaign, using a no-reply email address can have negative consequences.
---
Why you should avoid using no-reply emails
There are several reasons why you shouldn't use no-reply email addresses; no-reply emails can decrease your customer satisfaction, brand trust, and in some cases, email delivery.
Email Delivery: Spam Filters ⛔
Spam filters vary in design, yet all share the common purpose of identifying unsolicited and hazardous email content. Emails sent from generic addresses, such as a no-reply email, may trigger spam filtering. A lack of engagement with your messages over time can ultimately damage your email deliverability.
Customer Satisfaction ⭐
Your email communication with customers, contacts, prospects, or leads should not be viewed as a one-way communication channel. If customers attempt to reply to your emails and are unsuccessful in reaching you or your company, their satisfaction may diminish. Using a no-reply email address for your email communications may give the idea you are not interested in their questions or concerns.
Brand Trust 🤝
Customers who cannot reach you by replying to your emails may question your company's customer service, resulting in a breakdown of trust. Failure to offer simple and straightforward methods for responding to your emails may give a negative customer experience, leaving your contacts with the impression that you are uninterested in their responses.

SUGGESTION
Instead of risking customer satisfaction, brand trust, and inbox delivery, we encourage you to ditch no-reply email addresses.
---
No-reply email alternatives
No-reply emails were once acceptable but have been replaced by better alternatives. To avoid using a no-reply email address, we have compiled some options.
Use a real and valid email address ✅
Replace the no-reply email with a monitored email dedicated to handling email marketing responses. Optimal options include utilizing an email with a person's name, such as kathy@yourcomapanyname.com, or selecting a support-related email, such as support@yourcompanyname.com.
Here are some additional email examples to use instead of the no-reply email address.
info@yourcompanyname.com
hello@yourcompanyname.com
help@yourcompanyname.com
replies@yourcompanyname.com
notify@yourcompanydomain.com
Email Footer Resources ⬇️
In addition to creating a designated email address for marketing responses, we recommend adding an email footer that gives customers an easy-to-see option to submit questions.
Provide easy methods for your recipients to contact you, such as an email link, chat link, or a "Contact Us" button where they can enter additional information to receive assistance.
Here are some examples based on real company emails.
Example 1: Button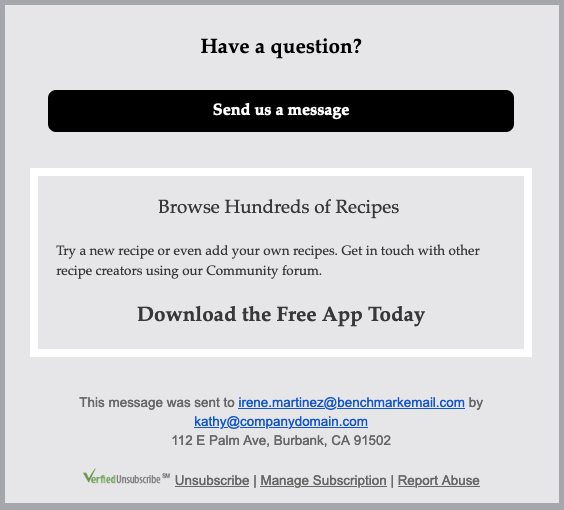 Example 2: Email Footer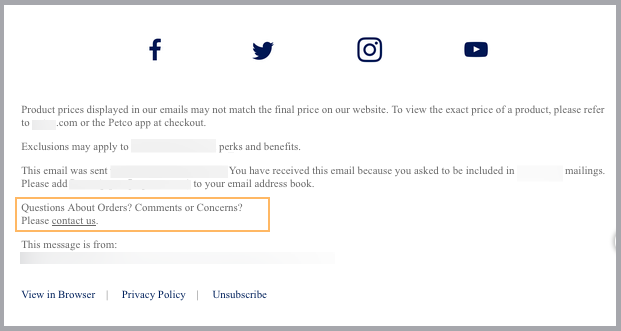 Example 3: Need Help Option Buttons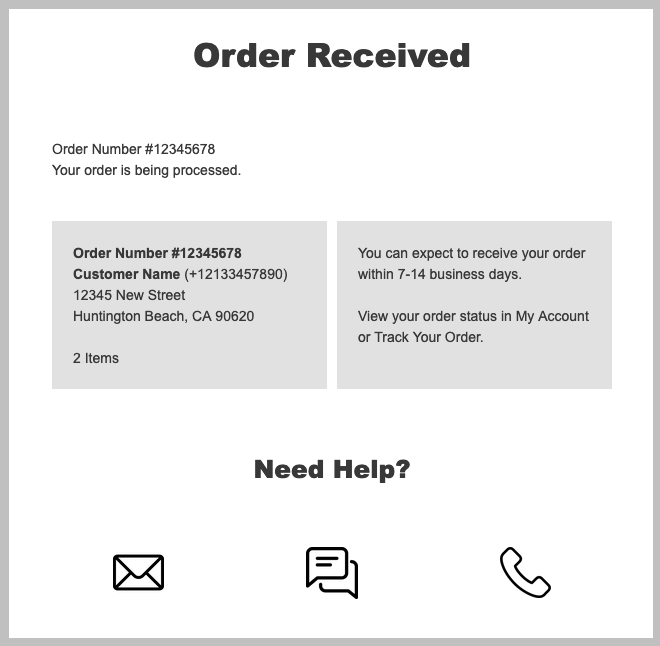 ---
If you have any questions, please contact our support team.