How to Add Videos
Media Gallery
Updated on December 16, 2022
To insert a video in your emails or landing pages, you'll need to have the video's URL and then add the URL to your video gallery. According to Litmus adding a video to your email can increase site visits by up to 200-300% and can improve your click-through rate by more than 60%! Read more about how effective are videos here.
Topics covered in this article:
---
How to upload a video to the Video Gallery
Log into your Benchmark account.
Then click on your account's name.
Select Image Gallery, and then click on the Video Gallery option.
Now, click on the Insert Video from URL button.
Enter the videos URL and click on the Insert button.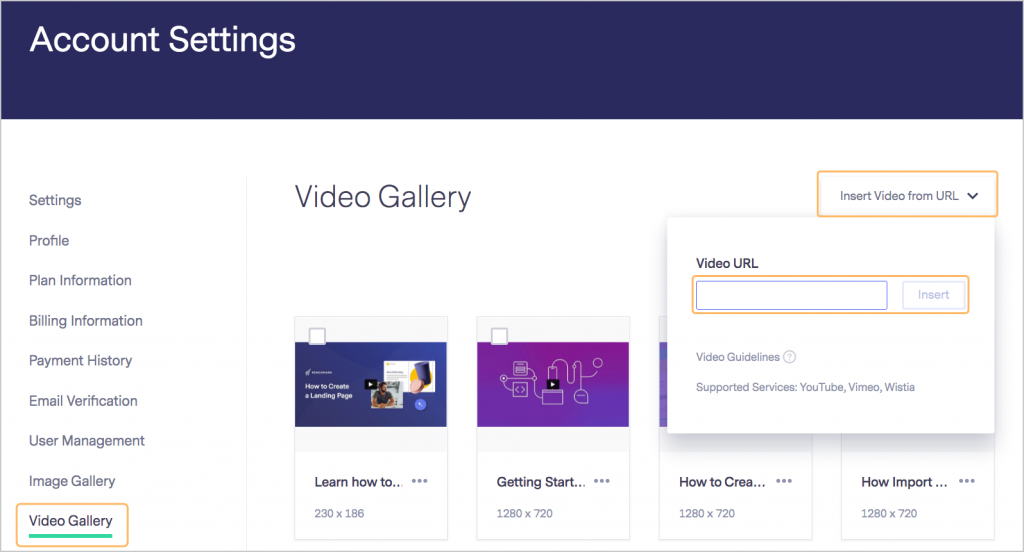 A thumbnail of your video will be saved in your gallery, but the video will remain hosted on its original hosting service.
---
How to add a video to an email
Create an email or go to an already existing email.
Select the Design step of your email.
In the Editor drag the video block to your email.
Click on the Link to Video option.
Select a video from your video gallery.
If you haven't added a video yet, then select the Insert Video From URL option, and paste in your videos URL and click insert.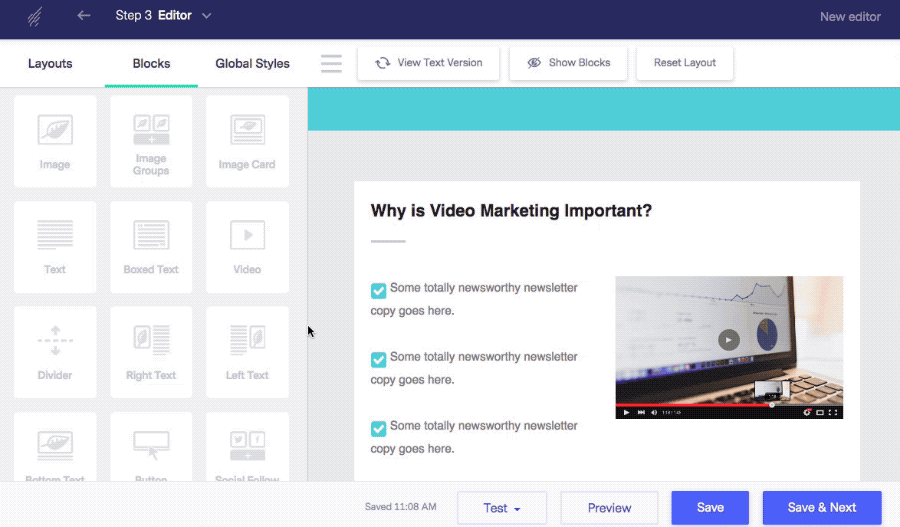 An image of your video will now be displayed in your email.
---
Upload a video to a landing page
To add a video to your landing page, go through the following steps:
Drag the video block to your landing page and place it in the desired location.
In the block added, you will see the Link to video option, click on it.
You can choose a video from your video gallery or upload a new one by clicking the Insert video from URL option, paste the video URL in the box and then click on Insert.
The video will display in your layout. Now you can customize the video block.
---
Why videos do not play within emails
It is important to note, that while you can embed a video in your email, the video itself will not play within the email. Instead, the video displays as an image with a play button in the email, and when a recipient clicks on the video, they are redirected to where the video is being hosted.
This is due to inbox security reasons, Most ISP's do not support video playback in their inbox. Sadly, this is an issue our clients can't avoid, and we hope that in the near future ISP's can find a way to allow video playback.
If you prefer that your recipients view your video on your website or landing page, instead of on the hosted site, you can create an image with a play button and link this image anywhere. To learn how to add links to an image click here.
---
Supported Video Services
You can add videos from the following services:
Because the video is not hosted in Benchmark, you must be careful not to delete the video from its hosting service. Deleting or changing the URL of the video in your hosting service will cause the video to not redirect properly.
---
More About Videos
By inserting a video into your email, you agree you have the right to use and reproduce the video and that it does not include prohibited content.
If your video is less than 10 seconds and you want it to play within your email we recommend you use a GIF instead. Click here to learn how to add an animated GIF to your email.
If you want to learn how to share videos with sub-accounts click here.
---
If you have any questions regarding a video or its display please feel free to contact our support team via Email, Chat, or phone.