Account Expired
Billing
Updated on September 12, 2023
When an account fails to renew, it becomes inactive and is considered Expired by our system. During the expired status, your email campaigns will not send, signup forms will stop collecting subscribers, and your automations will stop. Accounts renew each month automatically, annually, or semi-annually depending on your preferred billing cycle.

IMPORTANT
To prevent interruptions, please update your billing information whenever your credit card expires or you receive a new card. Although new credit cards may have the same card number, they will have different CCV and expiration dates.
Failure to act promptly could result in data loss.
If your account is expired and you need to renew it, please see the steps below on how to update your credit card information.
From your dashboard, click on the expired message, or click on your name on the top right corner, and then click Renew.

Your account is expired. Please update your payment details or contact support to renew your account.
On the next page, review the following:
Step 1 Choose your plan

, keep your current plan, or select a new one.

In step 2 Payment,

add your new credit card details and click on the Save option. To learn about the different payment methods available, please

click here

.

Lastly, review your Benchmark cart and click on the Pay Now! Option. After you click Pay Now, do not refresh or go back. Doing so could cause a double charge. If you need to make changes, contact our support team.

If you wish to change your recurring payments, you can change them here in the cart section. The annual plan provides a 15% discount.

On the next page, you'll see a success message.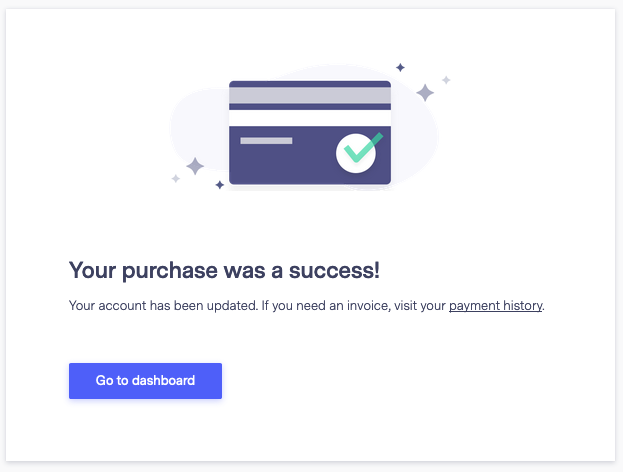 Once your account is renewed, all systems will resume automation, email campaigns, etc. The account's new renewal date will be the date when you renew/pay your account.
Another option for adding a credit card to your account is using the Billing page. To access the billing page, follow the steps below.
From your dashboard, click on your account name.

Select Account Settings, and then Billing Information.
Scroll down and select add a Credit Card.

Fill in your credit card details, and save.
Not Paying by credit card?
If you are paying by check or another method and need access to your account, please contact one of our support teams for assistance. To see the different payment methods we accept, click here.
---
If you have any questions, please contact our support team.