Landing Page Builder
Landing Pages
Updated on October 10, 2023
The Benchmark Landing page builder allows you to easily create landing pages to increase your conversions. A landing page is a tailored webpage where visitors land after clicking a specific link. For example, when a visitor signs up to your email newsletter via a signup form, you can then send them to a custom landing page. Keep reading to learn more about Benchmark landing pages.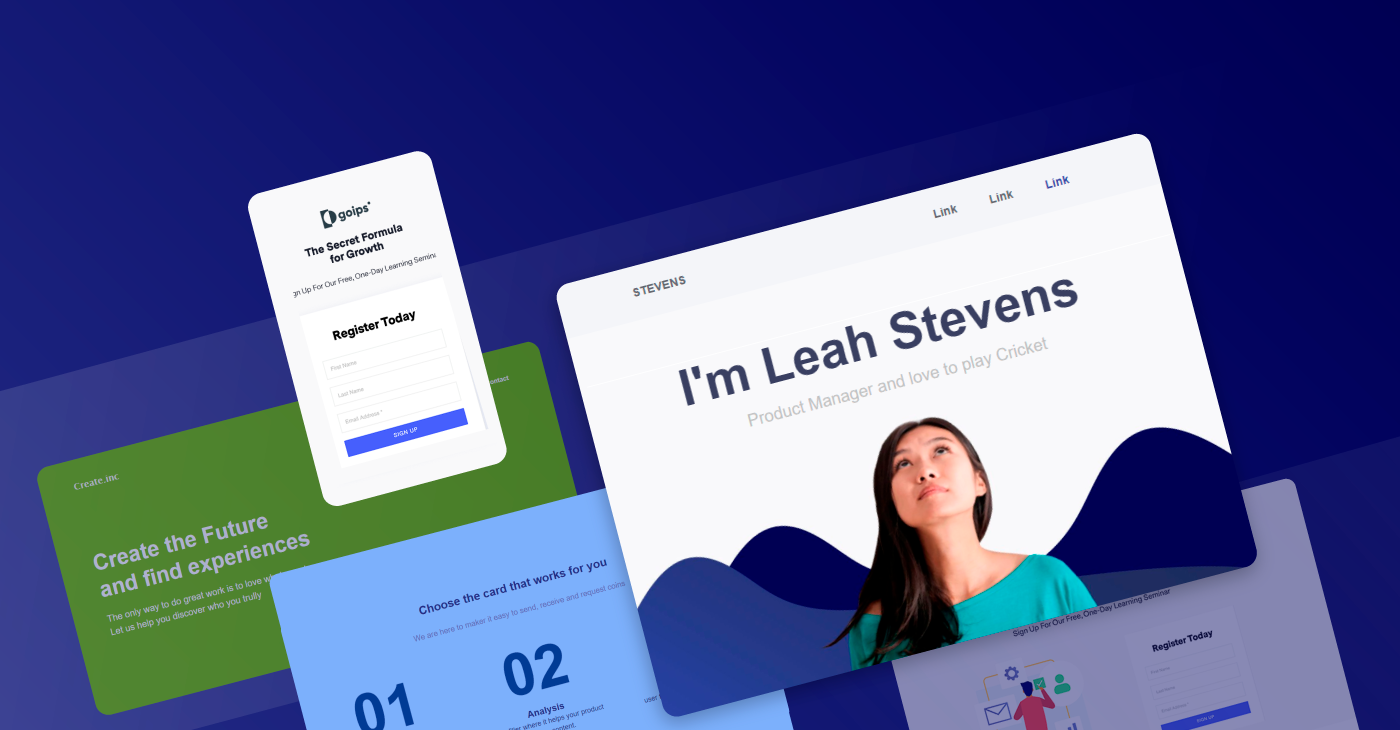 Topics covered in this article:
---
Benchmark Landing Pages
Landing pages are pages within your site that serve as a gate to further resources. They include a form that allows you to capture visitor information, and turn those visitors into leads for your business. Landing pages are typically used for things like events or online learning courses, guides, whitepapers, or other forms of gated content.
Creating a landing page is fast and easy – the real work is getting page visitors. Some suggestions for getting new page visitors are having a good CTA (call to action), whether in an email, another webpage, or on social media. PPC (pay per click) and social ads are a bonus if you can use them.
Who can use Landing Pages?
Both free and paid users can create and save landing pages. However, only PAID users can publish a landing page. Also, there is no limit to how many pages you can create. If you are a free user and would like to publish a landing page, please click here to upgrade.
Only clients using the new interface will have access to the Landing Pages feature.
What you'll need to publish a landing page
Suspended Accounts
Suspended Accounts will have all published landing pages paused. The paused landing pages will show a 404-page error to the visitors. If the account is reinstated, you'll need to republish the paused pages.
Expired & Canceled Accounts
Landing pages will remain active for 30 days from the date the account expired or was canceled. After 30 days, the pages will become paused, and a 404-page error will show to page visitors. If the account is renewed, the pages will need to be republished.
---
Landing Page Title
Aside from the landing page content, the page title holds great value over the success of your landing page. The title you add here is public and contains SEO value. It is especially essential if you want your page to be found organically.
The page title lives within the head tags of the HTML code of the landing page. The title also dictates how your page will be displayed in online search results, and what title the browsers will use in a window tab.Your page title should be relevant to the content on the landing page.
Keep in mind that some businesses skip having their pages indexed by Google or visible in their site map, especially when the pages are created for ad campaigns or other marketing purposes. Instead, they create custom forms that send visitors to specific landing pages — allowing them to see where traffic conversions are happening instead of having to use a UTM code.
A UTM code is short for "Urchin tracking module" that is provided by Google, which is a piece of text code that is added to the URL of your page that lets you track traffic.
If you'd still like to use a UTM, then you can turn on Google Analytics for your page. Click here to learn how to turn on Google Analytics.
The page title is mandatory to publish a landing page.
Example 1:
Page title in HTML
<head>
<title>Landing Page Builder</tittle>
</head>
<head>
<title>Some SEO Advice For Bill Gates</tittle>
</head>
The <TITLE> appears within the <HEAD> section of the landing page.
Example 2:
Browser's Window Tab
Browsers display the page title in the window tab, as shown in the image below.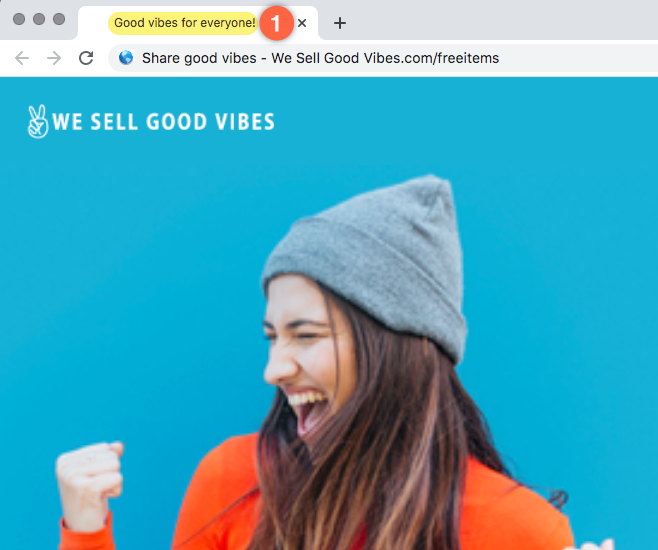 Example 3
Online Search Results
Probably the most important part of your title is how it will show up on a result page. Here we searched for "how to make pancakes," and below, you can see the results provided. The page titles are highlighted in yellow.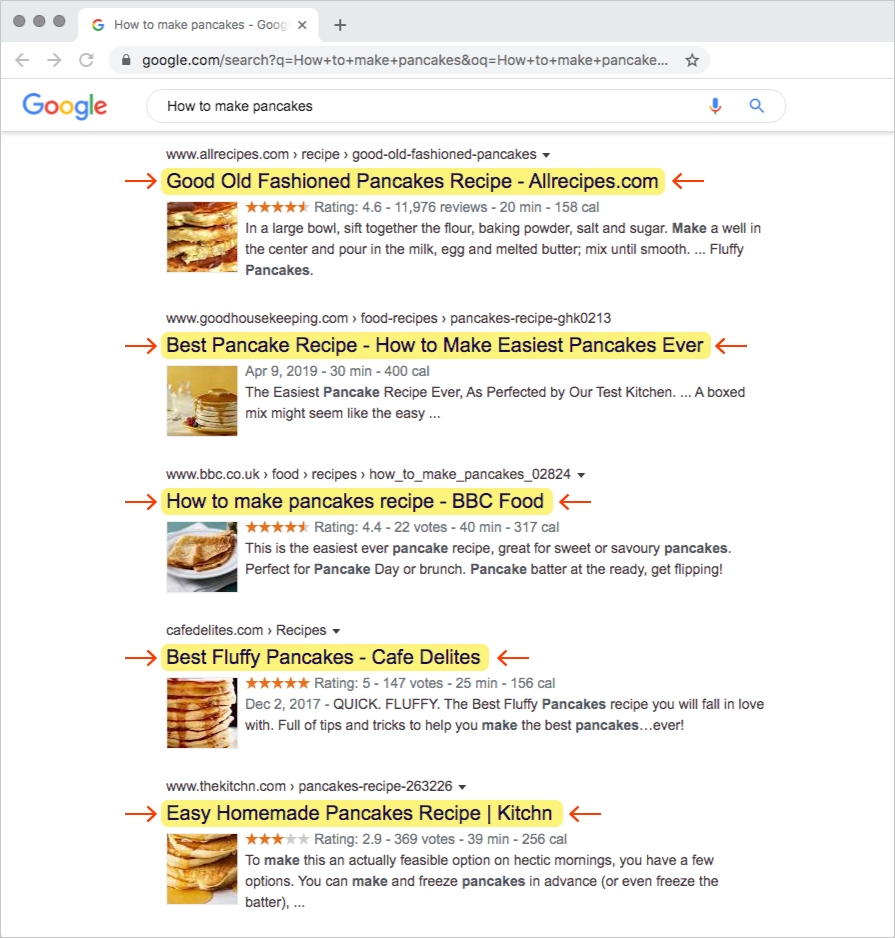 ---
Page Description
The page description allows you to add a summary of the content in your landing page. Here you'll want to include 2-4 sentences that draw attention to the message of your landing page. This page description has SEO value, so optimizing this space is crucial. However, this field is not required; if there is no description, then the area is ignored. In the image below you can see the page description highlighted in yellow.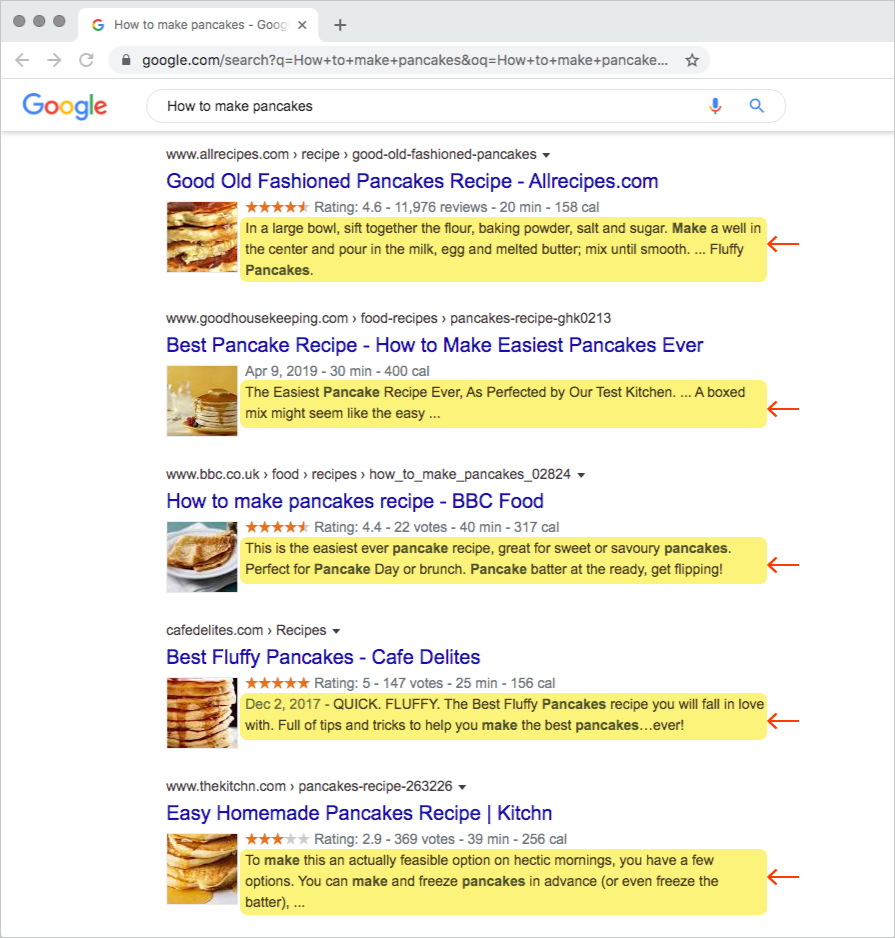 When sharing a landing page with no description on social media, the area is ignored. Here is a landing page with no page description shared on Facebook at the left, and with a description at the right.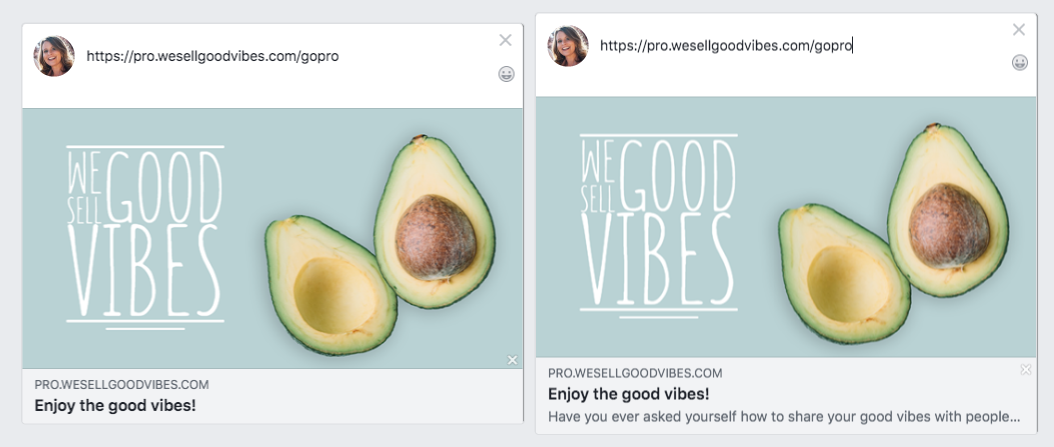 ---
Landing Page Stages
There are three different stages for your landing page.
Draft During the draft period, your landing page is not public and can only be seen by you in your Benchmark account. A landing page can only go from draft to published when all of the sections, such as Page Info, Design, Conversion Goals, and Landing Page URL, are completed.
Published/Active Once you publish your landing page, visitors will be able to see it and actively click on any links you may have. If any changes are done to the content of a published page, be sure to select "Publish Changes" when done. Otherwise, your changes will not be published to the landing page.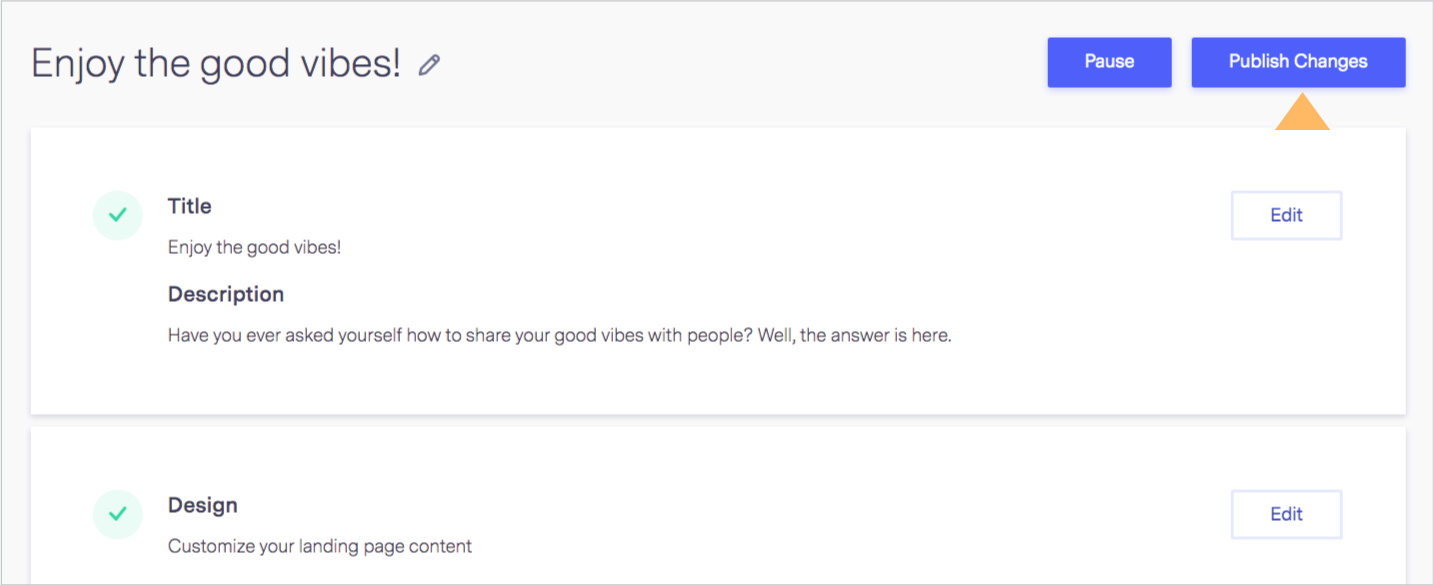 Paused If you change your mind and decide you weren't ready to publish your page, you can Pause to make changes needed and when you are ready to go live again, select Publish.
This is what visitors see when your landing page is paused.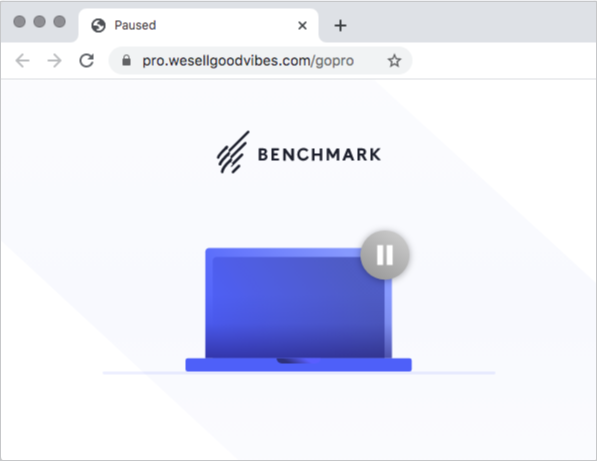 To pause your landing page, please follow the following steps below.
From your main dashboard, click on

Landing Pages, and then select Landing Pages.

Then click on the name of the active landing page you'd like to pause.

Now, click on the

Pause

option and then

Confirm

.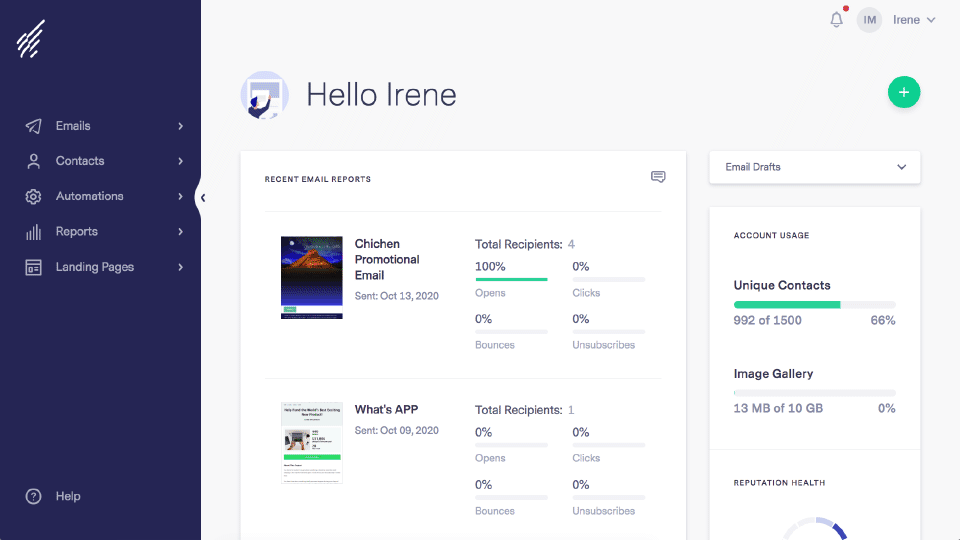 To reactivate, repeat the same steps mentioned above and instead click on Publish.
---
Unable to Publish Landing Page
In our efforts to avoid malicious content from being published there are some links, domains, and text we do not allow.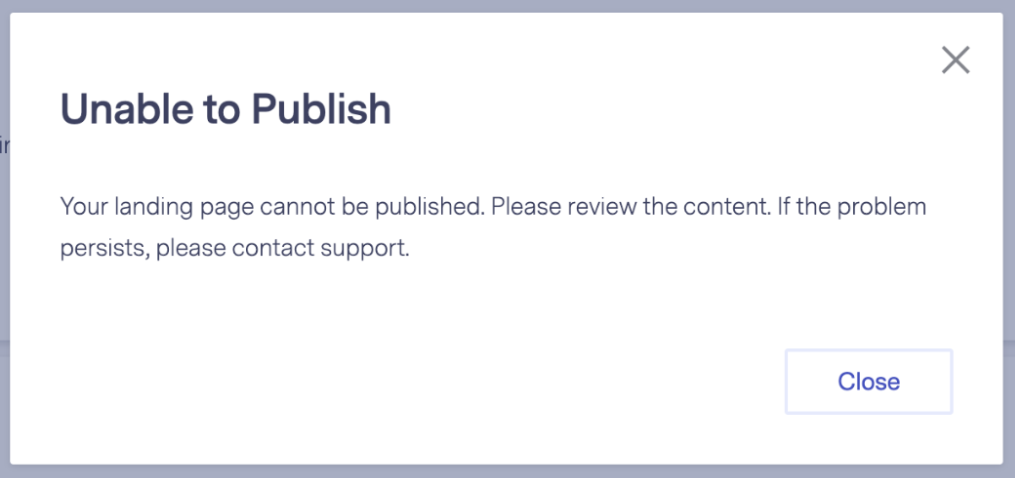 If you are unable to publish your landing, check that it does not contain any of the following text or content.
Latin words
Latin text is usually found in empty text blocks, and are designed to be used as placeholders. If your content has Latin text, you'll need to remove it.
Examples: ipsum, sapien vel rutrum, dolor sit amet, consectetuer adipiscing elit, donec ac arcu a diam, nec dolor quis pede, pretium fermentum massa, vestibulum, molestie.
URL shorteners
While shortened links might seem innocent, shortened links hide the identity of the landing page URL. Any URL shortened by any of the following services will not be allowed: https://tinyurl.com/app, https://bitly.com/, https://buffer.com, https://ppt.cc/.
Blacklisted domains
Links containing blacklisted domains. Blacklisted domains are domains or IP addresses that have been reported by ISPs for sending spam or phishing content. To check if any of the domains you added to your landing page are blacklisted you can use a third-party service like MXToolbox.
If you are still not sure why you can't publish the landing page, please reach out to our support team. We'll be happy to help.
---
What is a Conversion Goal?
A conversion goal is the main thing you want your visitors to do while on your landing page. The conversion goal could be visitors clicking on a link, subscribing to a signup form on your landing page, or participating in a poll or survey. Landing pages, on most occasions, if not all, have one goal, and that is to get conversions.
To publish a Benchmark landing page, you will need to have at least one conversion goal, a link you want to track when visitors click on it. Having one or more conversion goals will help measure the success of your landing page.
Selecting a Conversion Goal
To choose a conversion goal, please follow the steps below.
From your main dashboard, click on Landing Pages, and then select Landing Pages.

Click on the name of your landing page.

From the checklist options, click on

Add Conversion Goals

.

Then click on the dropdown option.

Here you'll see the links available on your landing page. Select one or more to measure conversions.
When done, click on Save.

---
Tracking Conversions
Once your landing page is published, you can begin tracking your conversions. To see the landing page report, please follow the steps below.
From your main dashboard, click on Landing Pages, and then select Landing Pages. Here you'll see all of your landing pages, find your active landing page, and review the results.
Visitors are people who have landed on your landing page.
Conversions are the number of visitors who have clicked on the links you selected as conversion goals.
Conversion Rate is the total percentage of the conversion goals met for your landing page.
---
Marketing and Tracking
For additional marketing and tracking services, we support GA4, Google Tag Manager, and Facebook Pixel ID.
To add a code or ID from one of the mentioned services, please follow the steps below.
From your main dashboard, click on

Landing Pages, and then select Landing Pages.

Click on the name of your landing page.

Scroll to Marketing and Tracking and click on the Edit

option.

Then click on the toggle bar for the service you'd like to turn on.

Add your code or ID and then click on Save.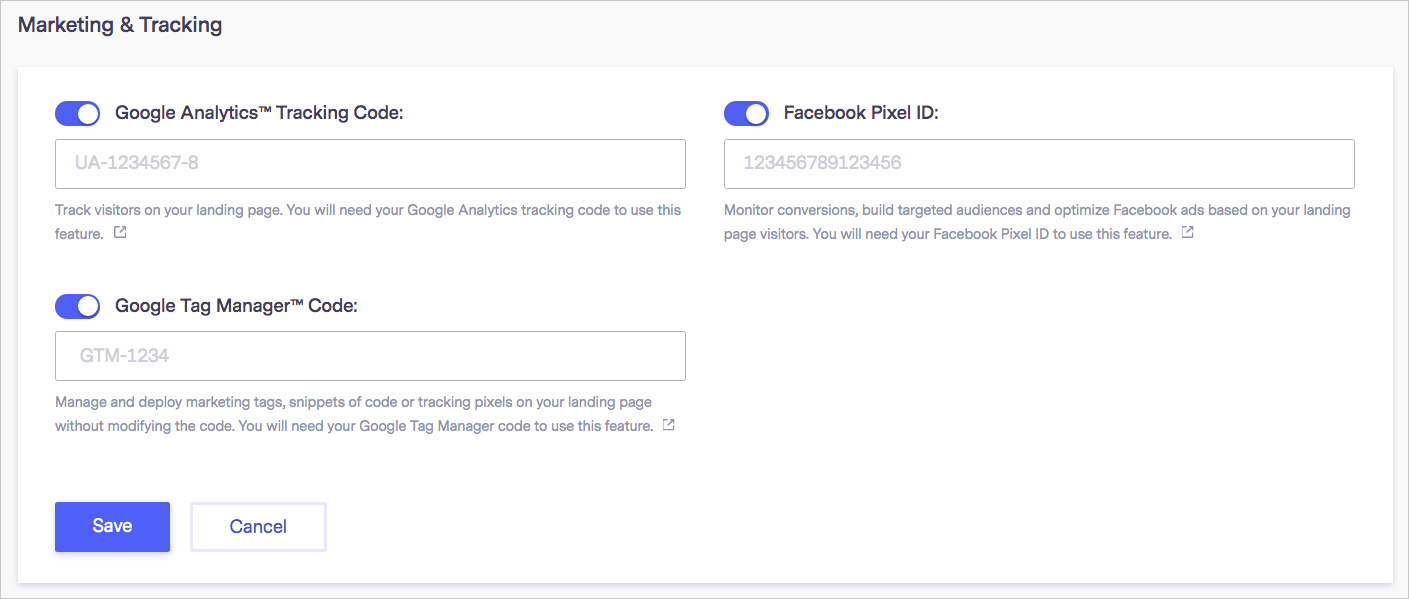 For instructions on how to get the tag for GA4, Tag Manager, or FB Pixel ID, please click on one of the links below.
---
Landing Page URL
The landing page URL is the set the path for your page. The URL is where your page lives on your domain. Without a URL, your visitors can't access or see your page.
There should be no spaces or special characters, only text and hyphens (-) numbers can be added as well, but numbers won't help a page rank higher.
Here are some URL examples.
subdomain.yourdomain.com/free-promo
subdomain.yourdomain.com/signup
subdomain.yourdomain.com/register-today
subdomain.yourdomain.com/sweepstake2
We recommend keeping the URL short and similar to the page title, if not the same.
---
Managing Domains
Use your private domain to publish your landing pages or use the SSL-certified personal Benchmark domain provided in your account. Personal Benchmark domains are ready to use, require no setup, and are available to all premium users.
To learn more about the personal Benchmark domain or to learn how to connect your private domain, please click here.
---
---
If you have any questions, please contact our support team.