Benchmark Payment Options
Billing
Updated on May 19, 2023
To help with different client needs, Benchmark offers different payment options. Upon registering for a Benchmark account, users are placed on a free plan. The free plan provides access to some features.

CONSIDER
→ To learn more about the Benchmark free plan, click here.
→ To learn how to renew an expired account, click here.
Topics covered in this article:
---
How to Upgrade
Our contact-based plan is offered by default; if you are looking for an email send-based plan, please click here to learn more.
To upgrade your account, please follow the steps below:
Click on your account name and select Upgrade.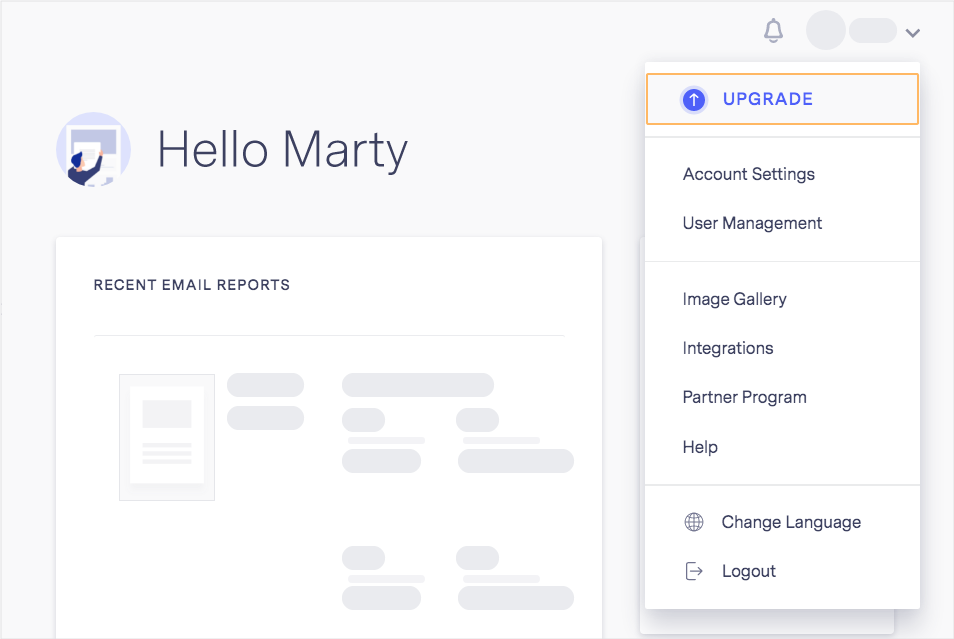 In step 1, Choose Your plan, you'll see your current plan.

CONSIDER
Plans range from 500 contacts to 2,000,000 contacts. For plans over 2,000,000 contacts, you'll need to contact our sales department. To get a custom quote, click here.
Toggle the bar to see the available plans and select a new contact plan.

Select your recurring billing type, Monthly or Annual. The annual plan provides a 15% discount.
Scroll down to see a feature comparison.
Please visit our pricing page to see the list of features available in each plan.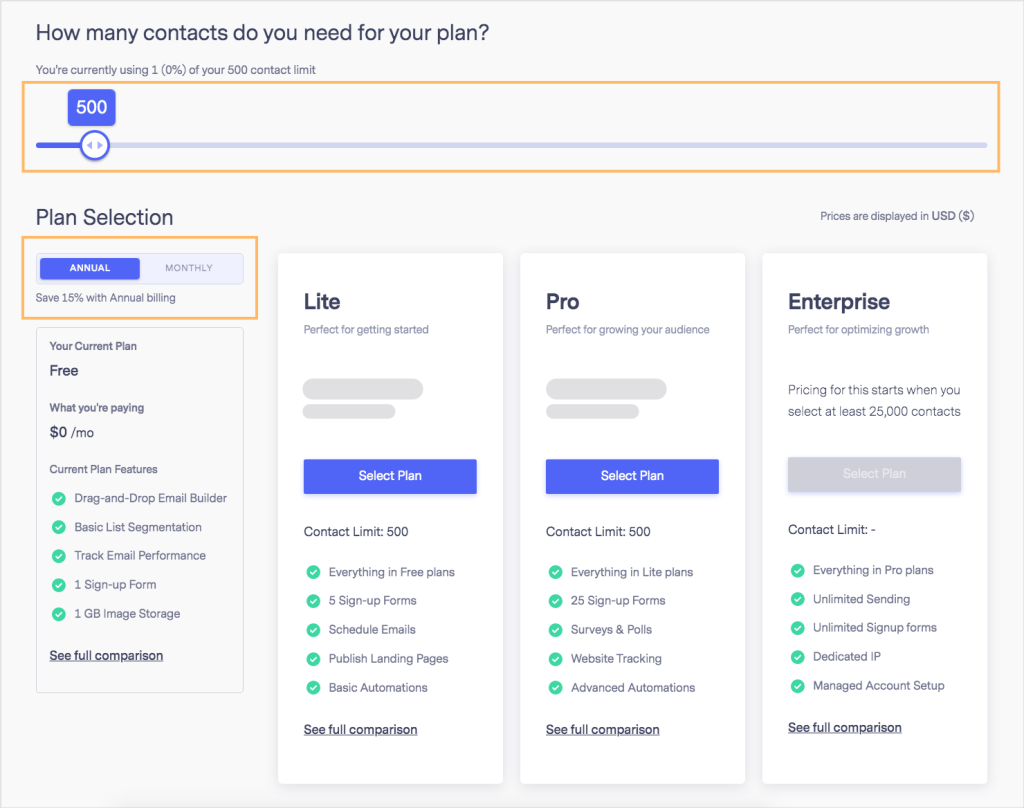 In step 2, Payment, you'll be able to add your credit card details. If you previously added a card, you'll see it here.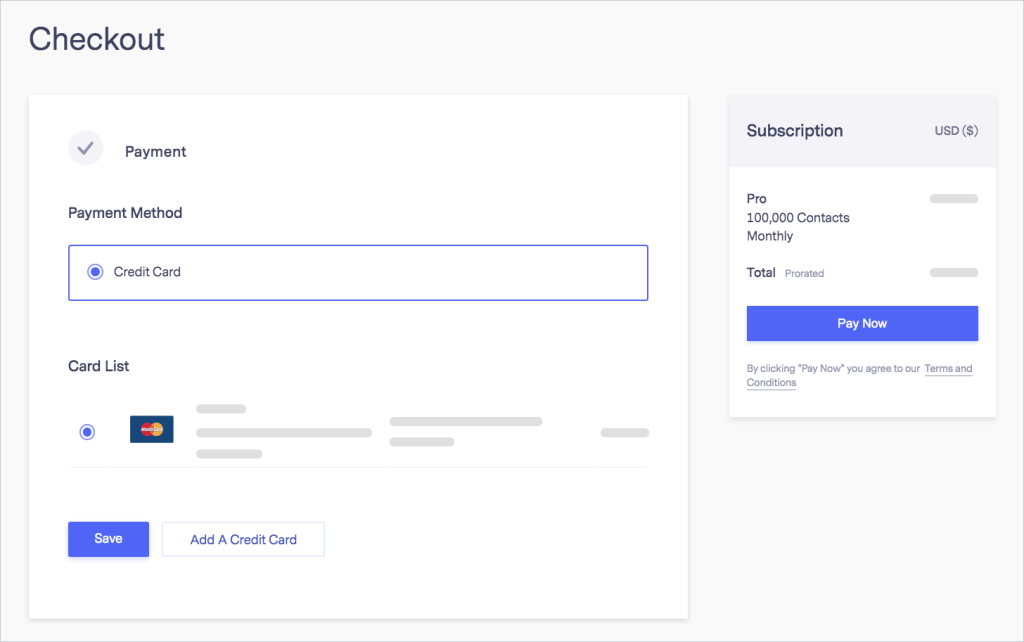 A green checkmark on all steps will allow you to confirm your plan upgrade.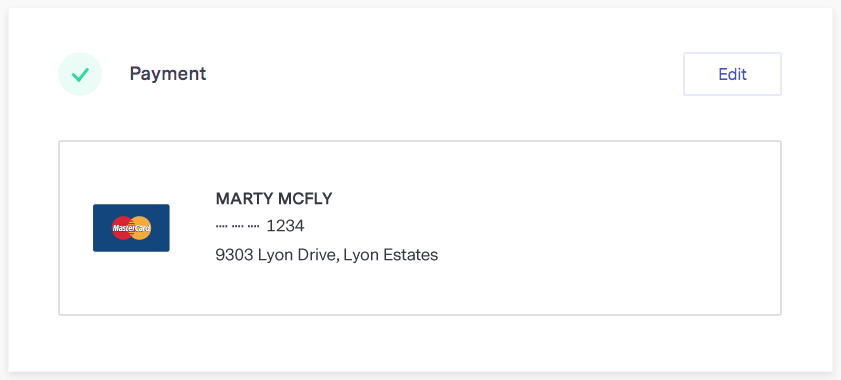 Lastly, review your Benchmark cart and click on the Pay Now option. After clicking PayNow Now do not refresh or go back. Doing so could cause a double charge. If you need to make changes, contact our support team.
In the next window, you'll see a confirmation message.

CONSIDER
If you upgrade in the middle of your billing cycle, the plan change will take effect immediately, and you will be charged a prorated amount.
If your account is expired/canceled, the account's new renewal date will be the date you renew your account.
If you are upgrading from a free plan to a paid plan, your account will renew on the date you upgraded according to the billing cycle you chose, monthly, or annually.
---
How to Downgrade
To downgrade your plan, go to the Upgrade page. On this page, you will find your current plan and different plans that fit your contact count. 

IMPORTANT
If you currently use Pro or Enterprise features, you cannot switch to a Lite plan unless you deactivate or remove those features.
Plans downgrading to a Lite plan from a Legacy, Pro, or Enterprise plan will lose access to some features.
If you switch from monthly to annual billing, your renewal date will change to coincide with the downgrade date. However, your renewal date will remain the same if there are no changes to the monthly billing cycle.
To learn more about features impacted by downgrades, click here.
If you have questions regarding a downgrade, please contact our support team at support@benchmarkemail.com.
---
Add-Ons
If you would like to only purchase an Add-On such as a Dedicated IP, or Inbox Checkers, you can do this by going to your Plan Information page. To access your plan information page, follow the steps below.
From your dashboard, click on your account name. Then select account settings.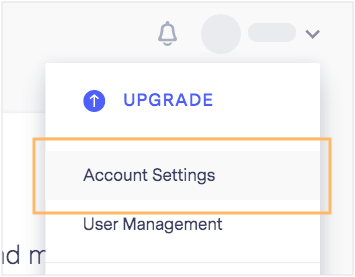 Click on Plan information.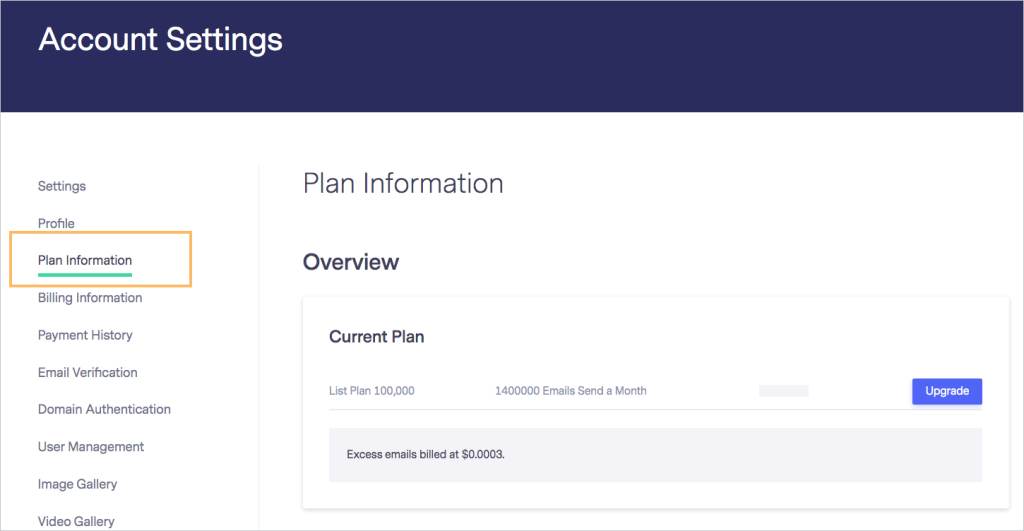 Here you'll see the two different Add-Ons we offer.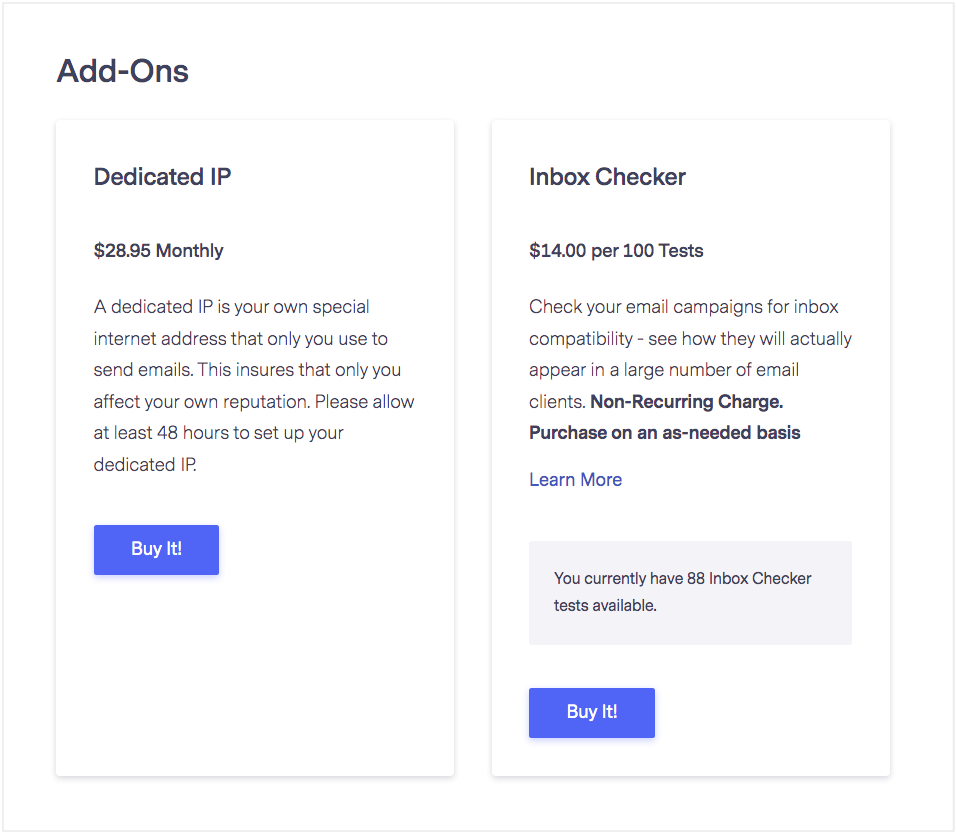 Select one and start the checkout process.
---
Credit Cards
Credit cards are the preferred method of payment. We accept the following credit cards:
Visa
MasterCard
Discover
Amex
---
Wire Transfer
While payment with Wire Transfer is available, it is not visible in your account. To pay via Wire Transfer please contact our sales or support department to get our bank information.
Please note there is a $25 Wire Transfer Fee.
---
Check
The check must be made out to:
Polaris Software LLC
3636 S. Geyer Road, Suite 100
St Louis, MO 63127
Please help us by including your account username as a memo.
---
PayPal

CONSIDER
PayPal Is available only for accounts located outside the United States.
This option will be available during the checkout process. To learn how to pay your Benchmark account via PayPal, please see the steps below.
Log into your Benchmark Account
Locate your account name, and click on it.
Select the Upgrade option.
Now choose the plan you want to upgrade.
In the next step Payment, select PayPal.
Then click on Pay with Paypal.
Log in to your PayPal account, review the amount being charged, if correct, continue.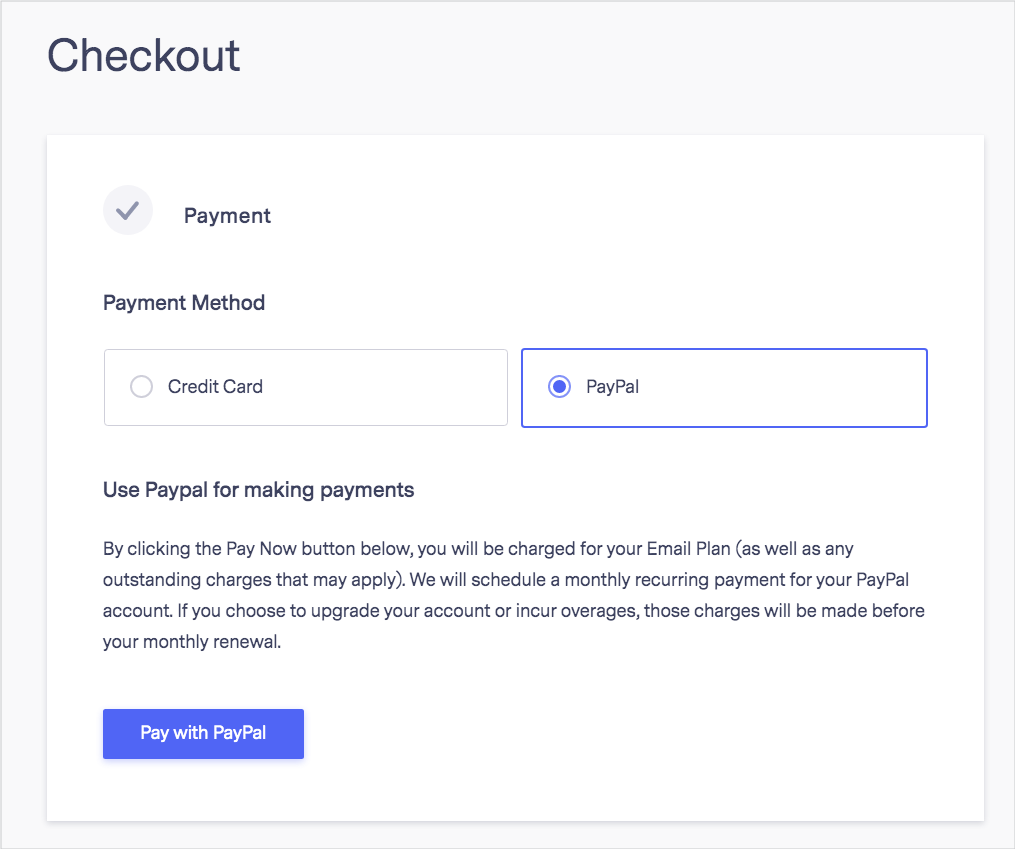 CONSIDER
If you decide you no longer want to use PayPal as a recurring payment option, please make sure you log into your PayPal account and STOP recurring payments for Benchmark Email.
If you would like to pay for your List Verification or any other one-time purchase via PayPal, please send it to paypal@benchmarkemail.com.
---
Recurring Payments
All accounts, whether Free or Paid, are on a monthly cycle; the date you upgrade from free to paid is the day you will be charged every month moving forward. Discounts are available for our Annual plans.

CONSIDER
Special accommodations can be made on a case-by-case scenario. If you would like to discuss other possible payment options or if you have questions about the above methods, please email us at support@benchmarkemail.com and explain your situation in detail. We will try our best to find a solution that works for you.
---
Payment Receipts
For your records, we store all payment and refund receipts in the Payment History section of your account. To view or download your payment receipts, follow the steps below.
Log in to your Benchmark account.
Click on your account name, and then select Account Settings.
Then click on Payment History.
Here you will see a list of all previous payment or refund receipts.
Each receipt will have a View option. Click on View to open the full payment receipt.

On the next page, you'll have the option to print the receipt. If you'd like only to download the receipt as a PDF, then click on the print option, and then in the popup, click on the file options and select Save as PDF.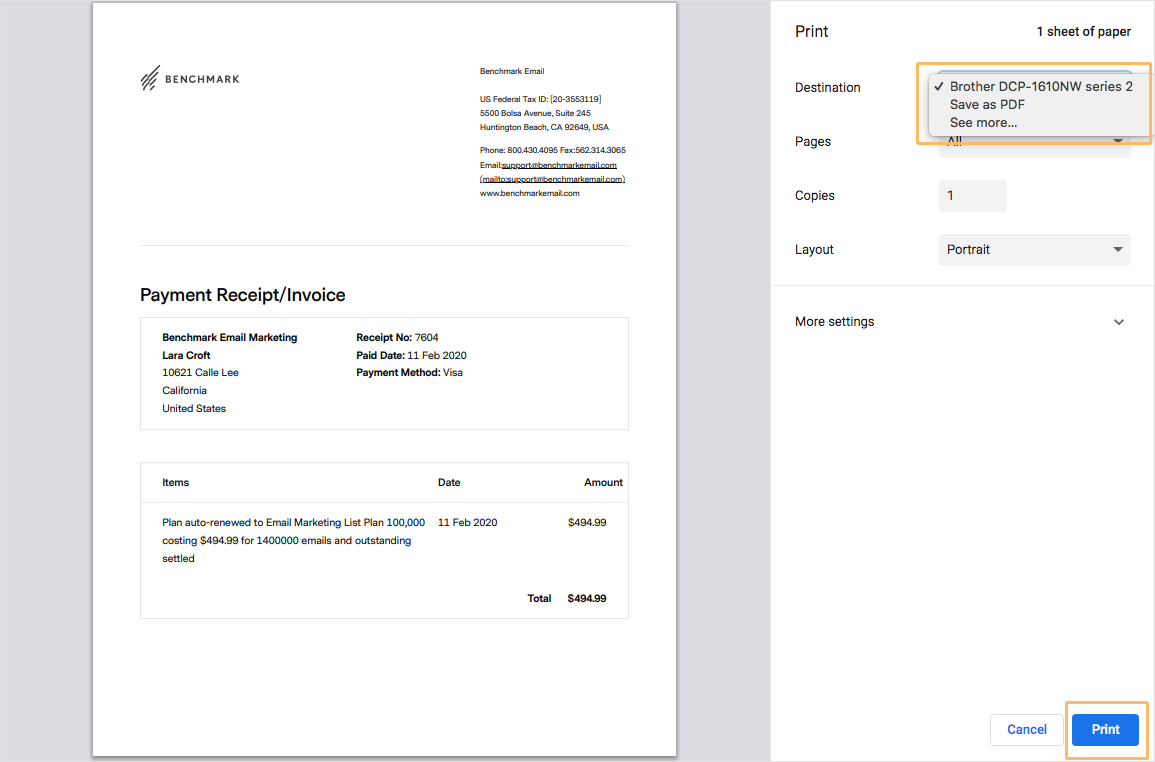 ---
If you have any questions, please contact our support team.