Contact List Fields
Contacts
Updated on December 9, 2021
Contact fields can be used for addresses, phone numbers, a date, or some notes. There are many benefits to using contact fields. One of them is, fields can be used to create a segment of contacts that you want to separate from your main list. To learn how to create a segment, click here. Additionally, fields help with email personalization when combined with merge tags, skip to the Best Practices section to learn more.
Topics covered in this article:
The following actions update/change the 'date modified' for a contact in a list.
Adding the contact to a list
When a contact confirms opt-in
Updating a contact's detail
When a contact subscribes to a list
The contact is marked as bounce
The contact unsubscribes
---
Contact List Headers/Labels
First and foremost, Benchmark only requires the Email Address field to import a list. The rest of the fields are optional. 
In a contact list dashboard, you can see the email address, name, last name, and the Contact Rating fields. To view additional fields for a specific email address, you have to open the contacts profile.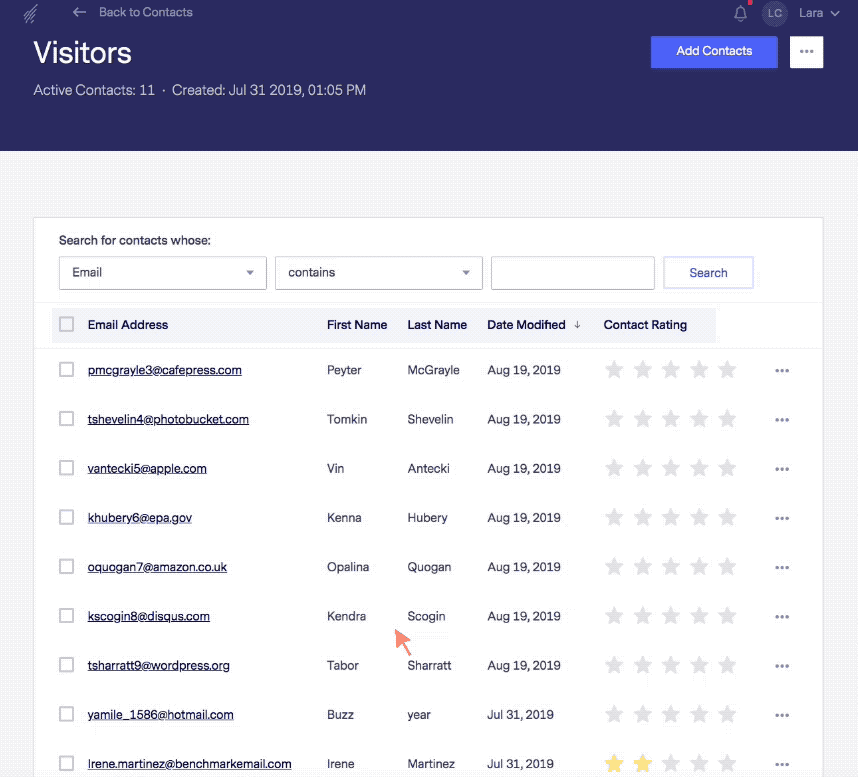 There are 28 fields provided for each contact by Benchmark. However, only 24 of them can be customized. The First Name, Middle Name, Last Name, and especially the Email Address field can not be altered. 
Additionally, do not create custom fields with the following labels/names:  
Email
First Name
Last Name
Middle Name
This is because those fields are default in our system, and creating custom fields with the labels will interrupt email campaigns from sending.
The Contact Rating field is not included in the 28 fields, as its value is set based on email engagement.
Below is the list of fields provided by Benchmark, that can be customized. To learn how to customize your fields, please click here.
| | |
| --- | --- |
| Address | Business Address |
| City | Business City |
| State | Business State |
| Zip Code | Business Zip |
| Country | Business Country |
| Phone | Notes |
| Fax | Date 1 |
| Cell Phone | Date 2 |
| Company Name | Extra 3 |
| Job Title | Extra 4 |
| Business Phone | Extra 5 |
| Business Fax | Extra 6 |
Custom fields are recognized with a regular list import process.
---
Field Content-Type
By default, all of the contact fields are set to Alpha Numeric, except for Date 1, and Date 2, these fields are set with a Date type, which can be used to schedule previous dates or upcoming events. If you don't need these fields, you can edit them to adjust to your needs. 
You can change the type of content a field can accept; here are the four different options we allow.
Alpha Numeric

Numeric

True/False

Date
---
Character Field Limit
The amount of characters a field can hold is dependant on the language being added. The following are the character limits for some languages.
English: 200 Characters 
Japanese: 25 Characters 
Chinese & Taiwanese: 25 Characters
Dutch, Portuguese, Spanish, French, and Italian:
200 Characters, however, this is also dependent on how many double-byte characters are used. (characters like "ü" and "ö")
Character Limitation in Signup Forms
Contact fields in a signup form have a limitation of 100 characters. The same rules apply for double-byte characters, as mentioned above.
---
Best Practices
If you have a file with your contacts, make sure to label each column, and during the import-mapping process, map each field to a Benchmark field.
Before uploading your file, we recommend clearing all formatting in your file. Clearing the cells will remove all formats that may prevent them from being imported.
We recommend using the Contact Rating field for segmenting. Sending to your most loyal customers can help keep a good sending reputation. 
---
Contact Fields Merge Tags
Use contact fields with email merge tags to pull information and personalize your email content. Our Greeting merge tag is a customer favorite; it allows you to insert a greeting along with the client's first name. If there is no first name in the contact list, then an alternative greeting is added. For more information about merge tag personalization, click here.
If you have additional questions, please feel free to contact our support team via Email, LiveChat, or Phone.