Knowledge Base Home

Create Drag & Drop Editor

How to add Videos
How to add Videos
To insert a video in your emails or landing pages, you can use a video you've placed in your Benchmark Email Video Gallery or by using the URL of videos in YouTube, Wistia, or Vimeo.
Here's how you do it:
Drag the Video block from the available Blocks on the left side of the Editor to the portion of the email you'd like to place the video in.
Now, click on Link to Video.
You'll see thumbnails of the videos you've uploaded to your gallery. To use one of these videos, click on the desired video.
Then, the video will automatically insert.
To use a video from YouTube, Vimeo or Wistia in your email, you can copy the URL of the video you choose and paste it in the Insert Video from URL box and click insert.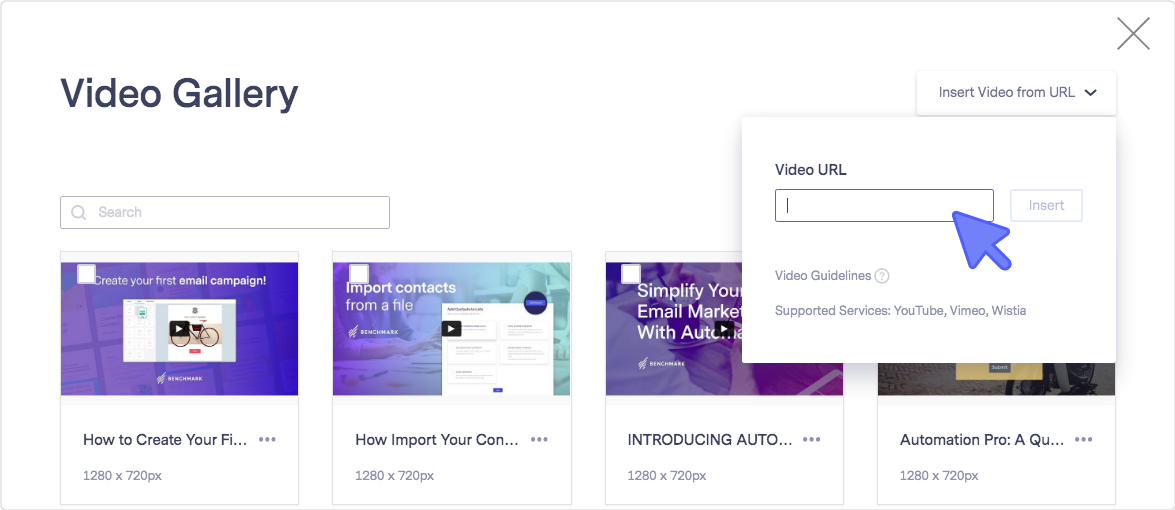 Note: You can edit the video Block to your desired preference.
Please note that the video does not get embedded in your email. This is because the email clients would flag the email as spam if your email contains scripts and embed tags. Benchmark overcomes this problem by using a screenshot of the video and a link to it. When the recipient clicks on the image to play the video, they will be redirected to the URL you used in your video.
If you have additional questions, please feel free to contact our support team via Email, LiveChat, or Phone.
---
Did this answer your questions?
Can't find what you're looking for?