Clean List Feature
Contacts
Updated on June 17, 2022
The Benchmark Clean List feature can remove specific groups of emails from individual contact lists, such as hard-bounces, soft bounces, or contacts who have not opened your emails. If you are not ready to remove the contacts, you can create a new email list.
Sending to a group of contacts who are not engaging with your email or a group of contacts whose emails could be invalid can and will hurt your email deliverability. We recommend you clean your list periodically and especially after sending email campaigns.
The Clean List feature should not be confused with List Verification; list Verification is typically used before emailing your list but can be utilized at any point. Click here to learn more about List Verification.

CONSIDER
Before you send your next email campaign, take a second to make sure your email list is clean. Not only will this help improve your email delivery, but it can also increase engagement.
Topics covered in this article:
---
The Clean List feature can help remove the following groups of email addresses:
Hard Bounces

Hard-bounced emails are email addresses that reject email delivery due to permanent failure; one reason could be the recipient's email address is invalid; click here to learn more.

Soft Bounces

Soft bounces are email addresses that reject email delivery due to short-term issues with the recipient's inbox, click here to learn more.

Contacts who have not opened the last

5 Campaigns
10 Campaigns
20 Campaigns
30 Campaigns
---
To clean your list, follow the steps below:
Log in to your Benchmark account.
From the dashboard, select Contacts and then click on Contacts.
Click on the name of the list you want to clean.
Now, click on the More Options icon and select the Clean List option.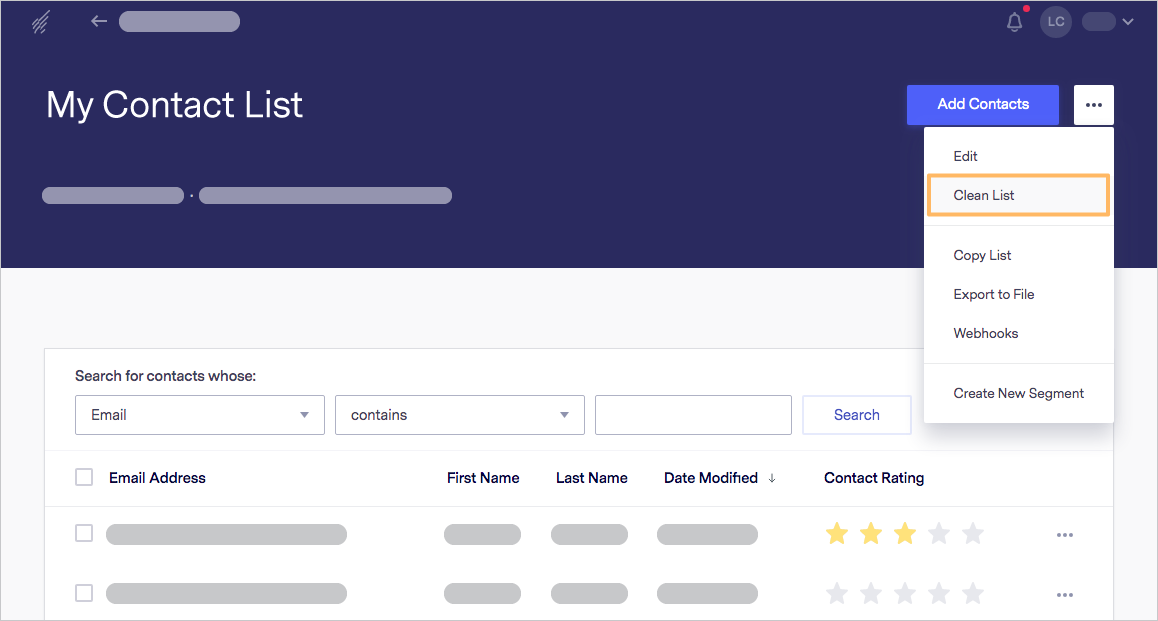 On the next page, select the group of contact email addresses you want to clean.
Once your group is selected, choose one of the following options: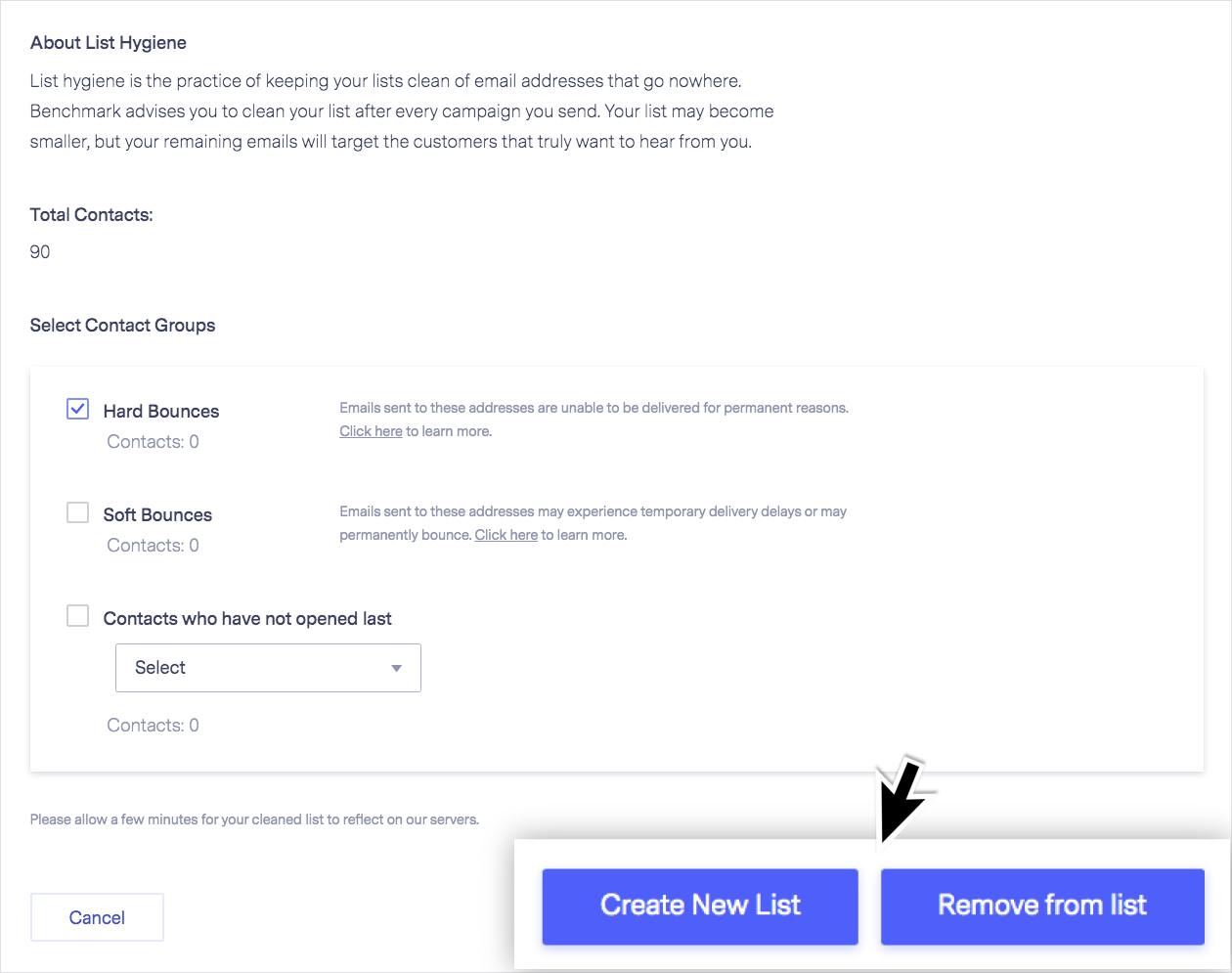 Create New List will create a new list with all of the email addresses you chose. This option does not remove the contacts from your list. The new list name will reference the original list name and will include HardBounce+Unopened, a name you can edit or change.

If you'd like to have a list of the email addresses but still want them removed from the original list, follow the steps below.
You'll need first to Create a New List of your group of emails.
Then repeat the steps and select the Remove From List option.
By following this method, you will have a separate list of the selected group, and the email addresses will also be removed from the original list.
Remove from List will remove the group of email addresses from the list selected. However, this does not prevent any of the emails previously removed from being uploaded later.

If you are removing hard bounce emails from your list and want to avoid sending to them in the future from another list, you can use the Create a New List option and then copy that list to the Master Unsubscribe list. Any email addresses added to the master unsubscribe list are immediately removed from all contact lists and will not be emailed.
After confirming your option, you'll be redirected to your contact list page, and a success message will appear.
---
How to create a suppression list of unengaged contacts
The list cleaning tool will identify and remove unengaged contacts that have not opened previous email campaigns. There may be times where you would prefer not to delete these contacts but instead keep them and no longer email them. One way to accomplish this is to create your own Suppression List where you can house these contacts and then exclude them from future emails. A Suppression List can help you maintain a healthy and engaged list which in-turn improves your deliverability.
A suppression list is not the same as the Master Unsubscribe List or the Master Invalid List, where email addresses in those lists are considered inactive contacts and can not be emailed. The suppression list is created and maintained by you, the user, and the email addresses in this list are considered active contacts.
How to create a Suppression List
Using the Clean List feature, create a new list of the contacts who have not opened the last 5,10, 20, or 30 emails.
Once the list is created, change the list's default name to Suppression List, this will allow for easy access.
Now, you can exclude the list in the Email Checklist process. Any contacts in the Excluded List will not receive emails. Click here to learn more about the Exclude List option.
We strongly recommend only emailing contacts who have engaged with your email campaigns within a reasonable time period. Continuing to email unengaged contacts will result in poor deliverability.
---
Removing hard bounces from multiple lists permanently
If you sent an email to multiple lists and want to remove all of the emails that hard-bounced permanently, you can add the hard-bounces to your Master Unsubscribe list to avoid emailing them in the future.
Go to the email's report page.
Click on the Activity Details option.
From the drop-down menu, select Bounces.
Click on the All Bounce Types option, and select Hard Bounces.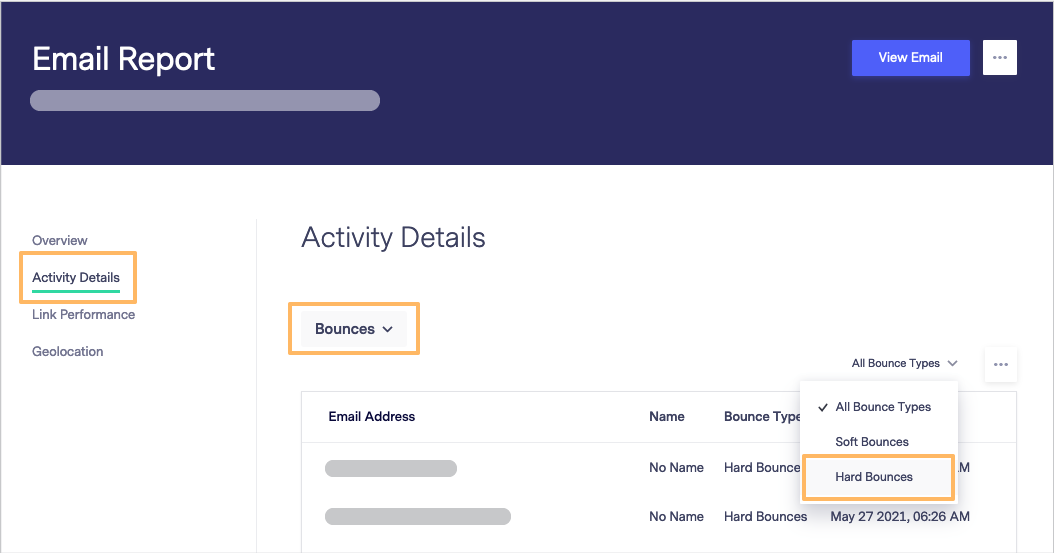 Click on the More options icon, and select Export File.
Go to your Contact List dashboard and open the Master Unsubscribe list.
Click on the Add Contacts option, and choose the Import From a File option.
Click on Browse and select your hard-bounces list and Open.
Select the Next option and in the Mapping Fields page, click Save and Finish.
---
If you have any questions, please contact our support team.